Scot Wilson is our Latest Featured Speaker!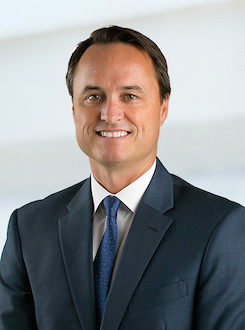 Our latest featured speaker is Scot Wilson from Robinson Calcagnie!
Scot will be speaking at our upcoming 15th Annual Federal Court Boot Camp in Los Angeles on May 3rd! He has spoken for us several times since 2013. At our How to Master the Deposition seminar in 2018, Scot received outstanding reviews from attendees. We're glad to have you, Scot!
Scot has been an attorney since 2002. He has over 17 years of experience representing clients in personal injury' wrongful death, consumer protection, employment, business, and class action cases. In addition to personal injury and wrongful death cases, Mr. Wilson also handles class action cases. Scot was one of the trial lawyers in the landmark In re Tobacco II class action trial on behalf of California consumers in which Philip Morris was found to have fraudulently and deceptively marketed Marlboro "Light" cigarettes as being safer and healthier than regular cigarettes.
Before joining Robinson Calcagnie in 2010, Scot was previously a shareholder at a business litigation firm in Newport Beach for six years where he represented clients in business, employment, and class action litigation. Before that, he was an associate at an international law firm in Irvine for two years. Mr. Wilson previously clerked for Judge William J. Rea in the United States District Court for the Central District of California. He also served as a pro bono Deputy District Attorney with the Orange County District Attorney's Office Trial Attorney Partnership Program.
Mr. Wilson has been admitted to practice in California since 2002 and has been admitted and handled cases in state and federal courts throughout the country.
In addition to being a member of the State Bar of California, he is a member of the Western Trial Lawyers Association ("WTLA"), Consumer Attorneys of California ("CAOC"), Orange County Bar Association ("OCBA"), Association of Business Trial Lawyers ("ABTL"), and Orange County Trial Lawyers Association ("OCTLA"). In 2015 and 2016, Scot was on the Board of Directors for the OCTLA. He is the author of the Recent Cases column in the CAOC's Forum Magazine and is a member of the OCBA's Administration of Justice committee
Scot has been named a Super Lawyer by Los Angeles Magazine for his work. In 2018, Mr. Wilson was a recipient the prestigious California Lawyer Attorney of the Year ("CLAY") Award.
He frequently gives presentations to other lawyers regarding trial advocacy, deposition techniques, and emerging issues in personal injury, consumer protection, and class action lawsuits.