Danielle Gould is our Latest Featured Speaker!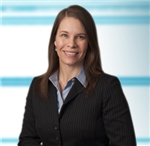 Danielle will be speaking at our upcoming 10th Annual Federal Court Boot Camp in Chicago on April 26th. This will be her first time speaking for us, and we're looking forward to her presentation!
Danielle is an experienced litigator and practice leader in her firm's Class Action Defense group. She represents companies and individuals in litigation matters involving commercial and business disputes, consumer fraud, false and deceptive advertising, unfair business practices, appraisal fraud, mortgage lending and loan servicing practices, employment disputes, and claims of negligent hiring and retention of employees. This includes having defended clients in more than fifty class action matters nationwide involving a variety of claims based on state common law, consumer fraud statutes, the Telephone Consumer Protection Act, the Fair Labor Standards Act, the U.S. Bankruptcy Code, the Truth in Lending Act, the Real Estate Settlement Procedures Act, the Fair Credit Reporting Act, the Fair Debt Collection Practices Act, and Chicago's Residential Landlord Tenant Ordinance.
Danielle has also represented individuals requiring pro bono representation in immigration matters. Prior to joining her firm, she practiced law at the Chicago office of Jenner & Block.