The Art of Jury Selection in Illinois: The Nuts and Bolts (Recorded Packages)
Audio program! (check our CLE Programs page for live versions)
Jury selection is a complicated process. There are so many ways an attorney can aid or hinder his or her case when selecting a jury – throughout the entire process.
At this program, multiple state judges and seasoned trial attorneys will go through critical areas of jury selection.  They will help you improve your skills, and along the way you will learn how to avoid common mistakes.  Topics include:
Lawyer questioning — First, the law:  how to not pull objections, get sufficient time to question, and more
Second, your strategies: The attorney's point of view on effective jury selection
Cause Challenges
Peremptory Challenges – including the latest changes
Investigating jurors
Zoom and pandemic challenges
Mock Jury Selection and Analysis with two judges, defense and plaintiff's counsel
Final Advice from the Bench
This is a practical program – your faculty will provide a variety of tips and advice and give you strategies in every session.
This program was recorded live on May 10 & 12, 2022. The recorded packages are now available in audio or video format and includes seminar materials.*

* The Video recording is a video of the webinar (including sound). The Audio recording is audio only, for those who wish to listen to it without visuals (such as in the car). You can also purchase both formats together. Note: All downloads must be downloaded to a computer first, before transferring them to another device.
Have you ever thought about improving your public speaking skills? Now is the time! Get Faith Pincus' book Being Heard: Presentation Skills for Attorneys, from the ABA now (ABA members receive 10%-20% off). Or – you can order a signed paperback from us at a discount here (free shipping). It is also available on Amazon in Kindle and paperback versions.
What You Will Learn
Part 1 Topics

Lawyer Questioning — First the Law
How to not pull objections
Getting sufficient time to answer questions
What is pre-trying
Questionnaires
Cause Challenges
What is a cause challenge
Challenges based on physical impairments
Typical Reasons for Cause Challenges
Rehabilitation and what to do if a judge is working hard to keep people in who have expressed enough to give rise to reasonable doubt
Peremptory Challenges
Number of Peremptory Challenges
Standard for granting Peremptory Challenges
Three-part test for evaluating an objection based on discrimination
Preservation Pitfalls
Part 2 Topics
Lawyer Strategies
What kind of jurors are you looking for, or more importantly, who don't you want on your case
The importance of educating the jurors about the law, being fair and impartial
Effective strategies for questioning potential jurors
Investigating Jurors During Selection
How attorneys manage the information uncovered about individual jurors
How judges handle and rule upon undisclosed information by jurors
Zoom and Pandemic Challenges
Difficulties for jurors and how that impacts your jury selection
Difficulties for the court and what some courts are doing or proposing
Challenges for attorneys and suggested approaches
Cause challenges
Demonstration and Analysis
Final Tips from the Bench
Testimonials
"Very professional and informative presentation. Panelists worked so well together – very impressive." – Ardith Juan, Esq.
"Excellent program full of practical examples; loved the demonstrations at the end." – Kimberly Smith, Esq.
"Excellent panel with good and practical insights." – Brian Hurst, Esq.
"Very good program. Demonstrative examples. Excellent!" – Talivaldis Cepuritis, Esq.
"I especially liked the role-playing with prospective jurors."
"Very good topic and very thorough." – Howard Jeruchimowitz, Esq.
"Appreciated insights from perspective of both judge and attorney."
"I've practiced and picked juries for 44 years – but it's always good to get more ideas."
"Gave great nuts and bolds on Jury Selection, not just topical but in-depth." – Michael Lynott, Esq.
"I'm brand new to jury trials, so the fundamentals and discussion were very helpful."
"Great! Very helpful mock jury demonstration to see how it all goes down!"
"Very good seminar!" – Scott T. Kamin, Esq.
"Good sections on for cause challenges and Batson challenges."
"Very good course! Thank you!" – Aileen Flanagan, Esq.
"The lectures were very important and covered some really good subjects." – George Ford, Esq.
"The materials are great."
"Great seminar – particularly compared to something I listened to on CD from another MCLE provider." – Ardith Juan, Esq.
"I was very satisfied. I picked up a lot of very useful insights from a panel with obviously experienced and talented attorneys." – Luke Ryan, Esq.
"All three speakers were excellent." – Talivaldis Cepuritis, Esq.
"Informative and practical." – Barbara Paige, Esq.
"Excellent program." – Paul Blatz, Esq.
"The live demonstration was incredibly helpful in illustrating the lessons discussed during this seminar." – Fitzgerald A. Javellana, Esq.
"As a defense attorney, I am regularly staring down the barrel of jury selection with little or no time to prepare. This program helped point out the major points I should focus on during jury selection." – Anthony Burchell, Esq.
"The subject matter is particularly interesting to me as a practicing trial lawyer."
"I found it very helpful and worthwhile."
"This was very interesting and helpful."
"Very helpful." – Raul Aspuru, Esq.
"Very helpful and well organized. It was good to hear both sides of various issues."
"Very informative, a lot of great insight from trainers."
"It was great to have Kristen Hudson back." – William Parrish, Esq.
"Very good information; learned a lot."
"I liked it, very useful."
"Excellent presentation and information."
"The area/topic of jury selection is very unique and interesting."
"Very good seminar overall."
"This was very helpful."
"Very informative and engaging."
"Exceeded my expectations."
"The speakers were extremely knowledgeable; I thought when there was more of a panel discussion as opposed to a single speaker talking for extended periods of time made for the best learning experience." – Matthew Baron, Esq.
"Speakers were all very good." – Hamden H. Baskin, III, Esq.
"Emphasis on prep.  Learned a lot about how FL will permit open ended questioning to root out prejudice.  The insight from the judge and young but experienced trial lawyers was very helpful. Judge was great." – Vincent Indeglia, Esq.
"Excellent presentation." – Nelon Kirkland, Esq.
"Fantastic program. Impressed with preparation." – Francis Carroll, Esq.
"Speakers were excellent. Content was excellent.  Some technical issues with the stream getting interrupted, but substance was great." –  Eric Faulkner, Esq.
"Very Helpful." – Raul Aspuru, Esq.
"Informative and practical." – Barbara Paige, Esq.
"De la O on Batson/Melbourne was excellent!" – Lucian Ferster, Esq.
"Exceeded my expectations."
"Very Informative and engaging."
"The mock voir dire was helpful."
"It was very well put together by all presenters."
"I think it was extremely helpful, especially to the younger lawyers who have never selected a jury."
"Very experienced speakers providing value advice."
"Informative."
"The program was helpful."
"Overall good content and delivery. More real life examples are always appreciated."
"It was great!"
"Helpful."
"Very good."
"It's not merely about getting in the required CLE hours. The content of your Circuit Court Boot Camp that I took impressed me and sold me on your programs. It's very easy to get the hours. Getting something of substance that is beneficial is different. I'm proud to say that this is what separates you from the competition." – Jerry Szymanski, Esq.
"I have utilized all of the service providers that I noted in the survey and truly felt I received great service from each. My favorite continuing legal education seminar provider, Pincus Professional Education is particularly noteworthy though. I have attended about five Pincus seminars. Each was phenomenally packed with useful content and had presenters/speakers of the highest skill level. I would unhesitatingly recommend Pincus to other lawyers and am already planning my next couple of seminars with this CLE provider."  – Quote from The Recorder's 'Best of CA 2013' survey
Faculty
Hon. Israel A. Desierto
Circuit Court Judge
Circuit Court of Cook County, Illinois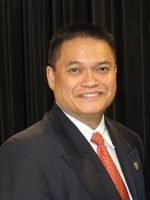 Israel Abaya Desierto was sworn in as an associate judge of the Circuit Court of Cook County, State of Illinois on June 1, 2005. Judge Desierto currently presides over civil matters at the Daley Center having previously presided over criminal matters at 26th and California.
Judge Disierto is a past president of the Illinois Judges Association and is a member of the Illinois Judicial Council. He is also active with the Illinois Judge's Foundation where he coordinated a program involving students at the Cook County Jail Counsuela York Alternative High School.
Judge Disierto is a member of the Asian American Bar Association, the Filipino American Lawyers Association, the Hispanic Lawyers Association of Illinois and the Women's Bar Association of Illinois. He continues to serve as an adjunct professor at IIT/Chicago-Kent College of Law where he teaches Trial Advocacy.
After graduating from Kent, Judge Disierto worked for the Cook County State's Attorney's Office. He practiced in both the Civil and Criminal areas of the law. As a civil litigator he practiced in the area of Medical Malpractice defense. As a criminal prosecutor, he tried primarily gang-related murder cases. He tried over seventy juries to verdict and hundreds of bench trials.
---
Hon. Thomas V. Lyons, II
Circuit Court Judge
Circuit Court of Cook County, Illinois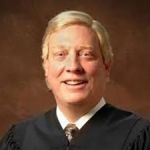 Thomas V. Lyons is a judge of the Cook County Circuit Court in Illinois. He was appointed by the Illinois Supreme Court in August 2008.
Prior to his judicial appointment in 2008, Lyons was a private practice attorney. He also worked for 15 years with the State's Attorney's Office in Cook County.
---
Hon. Rena Marie Van Tine
Circuit Court Judge
Circuit Court of Cook County, Illinois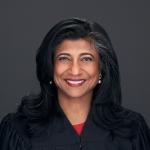 Rena Marie Van Tine became the first female Indian American judge in the nation to serve on a state court on June 12, 2001, when she was appointed Associate Judge of the Circuit Court of Cook County. She became the first female Indian American Judge in Cook County to be appointed to a countywide vacancy when the Illinois Supreme Court did so in February 2021.
She is currently assigned to the Law Division, Law Jury Trial Assignment call at the Richard M. Daley Center since February 2017. She was previously assigned to the Child Protection Division of Juvenile Court in Chicago.
Prior to her appointment to the bench, Judge Van Tine served as Special Counsel to Illinois State Comptroller Daniel W. Hynes. Before joining the Comptroller's Office, Judge Van Tine was a Cook County Assistant State's Attorney for 12 years. In this capacity she wrote numerous appellate briefs and argued several cases in the Appellate Court. She has also tried hundreds of cases. She served the people of the State of Illinois in the Criminal Division prosecuting violent offenders as well as in the Civil Division where she focused primarily on defending medical malpractice cases against Cook County Hospital. As a lawyer, she tried many jury trials in criminal and civil litigation.
---
Jennifer Cuculich, Esq.
Trial Craft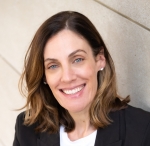 Jennifer Cuculich has a background in both law and education. She has worked as a litigator at several large national firms and has experience in the fields of antitrust, products liability, insurance, and white-collar defense. She also has nearly a decade of experience in the education field in instruction, coaching and curriculum development.
She is proficient in both Spanish and Italian.
---
Christopher T. Grohman, Esq.
Partner
Taft Stettinius & Hollister LLP.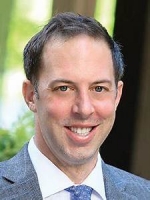 Chris is a partner in Taft's Compliance, Investigations, and White Collar Defense practice. He focuses his practice on defending corporations and individuals mired in government investigations, as well as conducting internal investigations and compliance reviews in an effort to stave off government involvement.
He represents public and private companies and individuals across a wide range of industries in anti-money laundering compliance, fraud investigations, healthcare compliance, online gaming regulation, and other complex investigatory and litigation matters. He has handled multiple cases and investigations brought by various government regulatory agencies, including the SEC, FTC, FINRA, and the CFTC. Chris has also conducted over a dozen trials in federal court and argued eight cases before the Seventh Circuit.
Chris has garnered a strong reputation in trying cases to verdict before a jury, conducting fraud investigations, including Medicare/Medicaid fraud and anti-money laundering law violations, leading investigations for both international and domestic publicly and privately held companies, investigating multi-million dollar investment fraud cases, and prosecuting public corruption, healthcare, securities and tax, terrorism, exploitation, narcotics and gun trafficking criminal cases.
Bringing more than 15 years of experience in the legal industry to Taft, Chris was previously a partner at an AmLaw 100 firm. He has also served as a federal prosecutor in the United States Attorney's Office for the Northern District of Illinois.
A graduate of Harvard Law School and the University of Pennsylvania's Wharton School of Business, summa cum laude, Chris served as a law clerk for the Honorable Ann Claire Williams of the United States Court of Appeals for the Seventh Circuit, and the Honorable Algenon Marbley of the United States District Court of the Southern District of Ohio. He has also served as an adjunct professor at the DePaul University College of Law, where he taught legal writing to law students and Chicago police officers.
---
Steven Hart, Esq.
Partner
Hart McLaughlin & Eldridge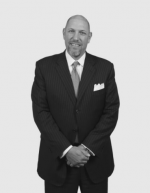 A seasoned trial lawyer with more than two decades of experience, Steven litigates a wide variety of civil matters including class action, mass torts, personal injury, products liability, toxic tort, environmental, automotive, and transportation cases. He also has a record of success representing both defendants and plaintiffs, from Fortune 500 companies, medium, and small businesses to individuals, in class action cases. Most recently, Steven obtained a 0 million-plus settlement for a class of farmers and small businesses in an antitrust class action suit in the Northern District Federal Court in Chicago. Steven received a 2013 Jury Verdict Reporter Trial Excellence Award for his work on this case, the highest reported Illinois verdict/settlement in 2013.
Steven has tried cases to successful jury verdict throughout the country and has argued before State and Federal courts of appeal. His practice includes State and Federal trial work in construction and premises liability actions. It was Steven's work in the latter arena that led Kohl's to nominate Steven's firm as a "Go-To" Litigation Law Firm in American Lawyer's 2012 survey. Steven also represents corporations and individuals in employment-related matters.
Steven serves as National Coordinating and Trial Counsel for several Fortune 500 companies in asbestos and environmental litigation. He is National Coordinating and Trial counsel for DHL transportation litigation. He has tried cases in Illinois, New York, Texas, Indiana, California, and Wisconsin for manufacturers and premises owners. He has developed extensive experience in epidemiology, medical causation, industrial hygiene, accident reconstruction, and biomechanics.
Steven is a published legal author and frequent lecturer. His writings have been published by the Illinois Institute of Continuing Legal Education, including "Using Expert Witnesses: Principles and Pitfalls." Steven is also an adjunct professor in trial advocacy at Chicago-Kent College of Law. Numerous bar associations and legal organizations have asked him to speak at distinguished events.
Steven was recently appointed to the 47th Ward Democratic Organization Judicial Review Committee, where his committee will be responsible for interviewing, vetting and slating Cook County Judicial Candidates for election.
---
Kristen E. Hudson, Esq.
Of Counsel
Dickinson Wright PLLC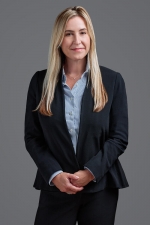 Kristen Hudson, Of Counsel in Dickinson Wright's Austin and Chicago offices, represents businesses and business people in complex commercial litigation in state and federal courts in Texas, Illinois and across the country. Kristen has won high-stakes challenges in a variety of substantive areas, from breach of contract, business and statutory torts, including fraud and the False Claims Act claims, to intellectual property disputes involving the protection of trade secrets and privacy. Kristen has significant experience with Article 2 of the Uniform Commercial Code and the U.N. Convention on the International Sale of Goods. Kristen also has concentrated experience in lawyer professional liability and fiduciary liability, including high-net worth trust disputes.
Kristen has served as General Counsel of mid-size law firm with offices in multiple jurisdictions. In addition, she has been seconded to clients for extended periods including at a large energy company and with a UK-based insurance company. With this experience to guide her, Kristen works to avoid court wherever possible for her clients, and pursues solutions that make the most business and financial success for her clients, including advocating aggressively when litigation is required.
In addition to her commercial litigation practice, Kristen is knowledgeable about all types of third-party commercial liability policies, including directors' and officers' liability, professional liability, employment practices liability, commercial general liability, products liability, cyber liability, among others. Kristen has experience on all sides of an insurance coverage dispute and business disputes involving the insurance industry. As a policyholder lawyer, Kristen recovered millions of dollars in insurance proceeds for her policyholder clients. Most recently, Kristen served as coverage and monitoring counsel on behalf of insurers.
Prior to attending law school, Kristen was a French teacher in the North Carolina public schools.
---
Joseph Kish, Esq.
Shareholder
Segal McCambridge Singer & Mahoney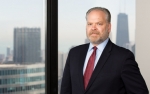 Joseph L. Kish is a Shareholder in Segal McCambridge's Chicago office. Having joined the firm in 2018, Mr. Kish brings notable, career-long litigation experience with him. He devotes a significant portion of his practice to the defense of business litigation, complex commercial, technology, and intellectual property law matters. He is also skilled in the defense of employment matters, namely employment mobility actions and state and federal employment discrimination actions. Over the course of Mr. Kish's career, he has represented and counseled clients in matters requiring class action. He represents clients in defense of data breach, privacy, fraud, defamation, professional negligence and breach of contract claims. Mr. Kish is highly focused on and skilled at risk and liability management, often times counseling clients in large scale documentary evidence and electronic discovery productions.
A seasoned trial attorney, Mr. Kish maintains a national trial practice. He has represented clients at both the trial and appellate levels in federal and state courts in a myriad of different jurisdictions nationally. Mr. Kish is licensed to practice in Illinois and California and is admitted to the bars of district and circuit courts across the country.
Outside of private practice, Mr. Kish is frequently called upon to present on matters of law central to his work as a trial attorney. In his role on faculty for the National Institute of Trial Advocacy, Mr. Kish teaches trial advocacy and expert witness and deposition skills throughout the United States. He regularly publishes on technology, employment and intellectual property matters for a variety of sources including the Defense Research Institute, the Illinois Institute of Continuing Education and for different bar associations. Notably, Mr. Kish is the General Editor for Illinois Institute of Legal Education's Business and Commercial Litigation 2018 and author on Expert Witnesses. He has also authored libel and slander chapters for California Causes of Action, an attorney practice book.
Mr. Kish received his J.D. from DePaul University College of Law. There, he was President of the Moot Court Society and was a member of the DePaul Law Review. Before that, Mr. Kish attended the University of Michigan, Ann Arbor, where he received a B.G.S. in Economics and Political Science. As a student at the University of Michigan, Mr. Kish was Associate Editor of the Michigan Journal of Political Science.
---
Michael I. Leonard, Esq.
Partner
Leonard Trial Lawyers

Mike Leonard is a nationally recognized "go to" trial lawyer. His trial practice concentrates in the areas of Federal and State criminal matters, in addition to civil employment, whistleblower, retaliation, qui tam (False Claims Act), commercial and business, and injury matters. He has successfully tried to verdict dozens and dozens of cases in the Federal and State courts, including in Illinois and across the country. Mike has spent his entire thirty-year career as a courtroom trial attorney and litigator.
Mike is believed to be the only presently practicing attorney to have attained at least six or more complete not guilty jury verdicts on all counts and charges in favor of his clients in Federal criminal prosecutions brought by the United States Attorney's Office for the Northern District of Illinois. Mike's recent Federal criminal jury trials include four not guilty verdicts on all counts and charges, a dismissal of all charges during trial, and a mistrial. This includes one of the very few Federal criminal not guilty jury verdicts in the Northern District of Illinois in 2020.
Mike's results have been equally impressive in civil trials in the Illinois State courts, including in Cook, Kane, DuPage, and Lake Counties, as well as in Federal courts throughout the country – ranging from Illinois, Indiana, Kansas and Virginia. Mike's clients have prevailed before juries in those jurisdictions in cases involving employment discrimination, retaliation/whistleblowing, securities fraud, civil rights violations, breach of contract, breach of fiduciary duty, and a variety of other commercial claims.
Mike has been repeatedly recognized as an outstanding trial lawyer by, among others, Super Lawyers, Leading Lawyers, American's Top Criminal Defense Lawyers, Top 100 Trial Lawyers, and America's Top High Stakes Litigators.
Mike has litigated or tried to verdict Federal and State cases in at least the following Federal or State jurisdictions outside of Illinois: Indiana, Wisconsin, Michigan, Ohio, Pennsylvania, South Dakota, Kansas, New York, New Jersey, Delaware, Virginia, Mississippi, Louisiana, Texas, Florida, California, and Oregon.
Mike has appeared, briefed, or argued numerous appeals, including before the United States Court of Appeals for the Seventh Circuit; the United States Court of Appeals for the Tenth Circuit; the United States Court of Appeals for Ninth Circuit; the United States Court of Appeals for the Sixth Circuit; and the United States Court of Appeals for the Third Circuit; numerous Illinois State Appellate Courts; the California Court of Appeals; and the Idaho Supreme Court.
Mike also regularly represents and advises clients on employment-related matters, ranging from discrimination of all types, retaliatory discharge, False Claims Act/qui tam matters, employment contracts and separation agreements.
Mike is a long-serving Adjunct Professor of Trial Practice at the prestigious Northwestern Pritzker School of Law.
He regularly lectures and instructs on the art and science of trial practice.
Mike is a 1991 graduate of Loyola (Chicago) School of Law, where he was a member of the Trial Team and the Law Journal. Mike completed his undergraduate studies at the University of Iowa.
---
Jennifer Ries-Buntain, Esq.
Partner
Hall Prangle and Schoonveld LLC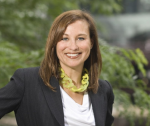 Jennifer Ries-Buntain is a trial attorney with experience in professional liability, general negligence, commercial litigation, and environmental litigation. She specializes in the defense of providers of health care services, including those who work for hospitals, health care clinics such as fertility, laboratories, staffing agencies, and other institutions. Jennifer is one of the original nine attorneys who practiced together at a large Chicago law firm and left that firm to create Hall, Prangle, & Schoonveld, LLC.
Her clients trust her to handle a wide range of claims brought against them. She has defended both state and federal claims involving private parties and governmental entities. These include negligence, insurance coverage, product liability, premises liability, battery, defamation, and breach of confidentiality. As part of national "s.w.a.t" teams for her clients, Jennifer has appeared as trial counsel in a number of states. She has tried several cases to verdict including first- and co-chairing catastrophic injury cases. When the circumstances warrant it, Jennifer recognizes the value of obtaining timely and efficient alternative resolutions for her clients. Dispositive motions are tools that she looks for opportunities to use, successfully narrowing issues for her clients.
As the firm's former Managing Partner and in current leadership roles in the firm, Jennifer's mission is to advance a different kind of business model- one that redefines success by recognizing the parallels of being a good human and a good lawyer. She views her role as a leader within the firm as a platform to give the firm's clients, members, and surrounding communities a way to determine, and be at, their best. Jennifer has been asked to speak on panels for bar associations regarding these issues.
---
Fees
Three Recorded Package options to choose from:
Video (with sound)* Recording & Materials Package – CD or Download:  $425
Audio Only* Recording & Materials Package – CD or Download:  $425
Order both the Video* and Audio Only* Packages for only $50 more – CD or Download:  $475
*The Video recording is a video of the webinar (with sound). The Audio recording is audio only, for those who wish to listen to it without visuals (such as in the car).
Note: All downloads must be downloaded to a computer first, before transferring them to another device.
For CDs, please add $8.50 shipping and, in CA, sales tax.
This program will be recorded live on May 10 & 12, 2022.
(Recorded packages are available approximately two to three weeks after the seminar is held.)
CLE Credit
IL General: This program is approved for 6.5 general CLE units in Illinois through May 9, 2024.
CA General: This program is approved for 6.5 general CLE units in California.
NY General: This course is eligible for approval, under New York's CLE Approved Jurisdiction policy, for up to 6.5 CLE units. Pincus Professional Education is a CA Accredited Provider, which is a NY approved jurisdiction. See Section 6 of the New York State CLE Board Regulations and Guidelines for further information.
This program is approved for CLE in the states listed above.  Upon request, Pincus Pro Ed will provide any information an attorney needs to support their application for CLE approval in other states other than what is listed above.