The Plaintiff Attorney's Guide to Handling the Medical Malpractice Pre-suit
Audio program! (check our CLE Programs page for live versions)
This program is no longer approved for CLE in Florida, but it is a great program filled with tips and strategies for plaintiff's attorneys filing medical malpractice suits. It is now 50% off.
To bring a medical malpractice action in Florida requires much more than a complaint and a filing fee. Florida has enacted labyrinthine statutes and rules which can trap the unwary.
At this comprehensive seminar, your faculty – all experts in Medical Malpractice suits – will cover those issues related to pre-suit investigations, and help you prepare your case for the optimum results.
Your faculty will review procedures for filing a medical malpractice action in Florida, and review recent case law dealing with hot issues. They will cover topics such as obtaining your expert's affidavit, preparing the Notice of Intent Letter, handling pre-suit discovery, making your demand, Pre-suit Arbitration options and designing an effective pre-suit mediation. Your faculty will also dig into damages – both economic and non economic.
This program is still in the planning stages and additional topics will be added.
CD and Download format are available. The recording date for this program is May 10, 2019.
Do you want to improve your public speaking skills? Get Faith Pincus' newly published book Being Heard: Presentation Skills for Attorneys, from the ABA now (ABA members receive 10% off). It is also available on Amazon in Kindle and paperback versions.
What You Will Learn
The medical malpractice 90-day suit period
Client assessment and intake
Time line /statute of limitation considerations
Types of cases that require the statutory pre-suit
Pre-Suit Automatic SOL extensions
Preparing your case
Preparing / Serving the Notice of Intent to Initiate Litigation
Handling the case during the 90 days

Handling unsworn statements of both the prospective claimant and defendant
Responding to discovery

Records Retrieval
Reviewing medical records
Pre-suit arbitration options

Pre-suit discovery
What are the necessary pre-suit documents you need to obtain?
Choosing your medical expert
Obtaining your expert's affidavit
Handling pre-suit discovery

Documents
Interrogatories
Physical/Mental Examinations
Unsworn Statements
Adverse Medical Incidents
Policies and Procedures
Confidentiality
Spoilation of evidence
Making your demand and designing an effective pre-suit mediation
Preparing demand package

Offers/Demands of / for Judgment

Economic/non-economic damages and damage caps
Settlement proposals
Use of PowerPoints
Utilizing video opinions of experts
Highlighting medical records
Day in the life video
Animation of surgical or other interventions
Use of radiographs
Use of medical literature
Life care plans and economics
Thinking outside of the box: Pre-suit strategies
Knowing your defendant
Practical considerations in pre-suit
Desired outcomes
Offensive Strategies
Defensive Strategies
Getting to done
Testimonials
"Very informative and well-presented. I didn't not realize how much strategy could be utilized in the pre-suit. Mr. Silva took a boring issue in arbitration and made it entertaining. Cohen's use of PowerPoint presentation with medical records for pre-suit mediation was very effective." – Timothy Kenison, Esq.
"Pre-suit discovery session was excellent! Very informative." – Janice Fisher, Esq.
"Very good info. I learned arbitration was not a bad word. Pre-suit discovery session was excellent! I learned I could stage my pre-suit defenses to encourage an early settlement with one defense then purse the remainder of potential defenses. Brilliant strategy!" – Cheryl Smith, Esq.
"Well presented. Valuable presentation suggestions by Jay Cohen. Deborah Gander was very knowledgeable." – Kelli Newman, Esq.
"I practice defending medical malpractice cases. This gave me insight into the Plaintiff's mindset that I was seeking in this course. Superb presentation by Michael and Jay. Very professional with excellent advice for those desiring careers in medical malpractice law. Deborah Gander gave an excellent, energetic presentation with exceptionally good handout materials." – Daniel J. D'Alesio Jr., Esq.
"Great seminar." – John Eversole, Esq.
"Excellent. Good, hard work by all speakers! Nice Job!" – William Petros, Esq.
"Lots of valuable information/insights." – Dan Calvert, Esq.
"Excellent speakers."
"Extensive and substantial presentation by Deborah Gander and excellent practical presentation by Jay Cohen."
Faculty
Stephen F. Cain, Esq.
Partner
Stewart Tilghman Fox Bianchi & Cain, P.A.

Stephen has successfully pursued personal injury claims on behalf of clients in cases involving medical malpractice, defective products, automobile accidents, negligent security, legal malpractice, admiralty/maritime accidents and general negligence. His efforts have resulted in numerous verdicts and settlements in excess of a million dollars.
Stephen is also active in various legal organizations on both a state and national level that focus on preserving the legal rights of victims and their families. He currently serves on the Board of Directors and the Executive Committee of the Florida Justice Association (FJA). With the full support of the firm, he spends countless hours in Tallahassee lobbying our elected officials in the Florida Legislature to ensure that victims and their families continue to have the rights guaranteed them under the Constitution to pursue their claims for injuries and death resulting from the negligence of others.
Stephen received his undergraduate degree from Florida State University. He graduated cum laude from the University of Miami School of Law where he was recognized with honors in the nationally renowned Litigation Skills program. He has continued to excel in his professional practice and has been recognized by various publications and his peers as a Florida Trend "Legal Elite", a Florida Super Lawyer "Top Young Lawyer", and as an "Up and Comer" by the South Florida Legal Guide.
Stephen is married to his wife, Marni, and together they have three children, Raftin, Hudson and Savannah. He is actively involved in the community and with various charities.
---
Jay Cohen, Esq.
Senior Partner
Law Office of Jay Cohen PA

Florida attorney Jay Cohen represents individuals and families who suffer due to the negligence of others. His experience and professionalism have earned him membership in the American Board of Trial Advocates, where he earned the distinction of "Lawyer of The Year," as well as peer recognition from Florida Trend Magazine's Legal Elite, Florida Super Lawyers, and The Best Lawyers in America©. Jay was a finalist two years running for the Daily Business Review's Best Medical Malpractice Lawyer. He is also the recipient of America's Top 100 Attorneys® Lifetime Achievement Award, and the Broward County Bar Association's Professionalism Award. Jay is AV Preeminent® rated by Martindale-Hubbell®.
Jay has won large jury verdicts in medical malpractice, other personal injury and complex commercial cases in Florida. He is involved in numerous bar association activities and was elected to serve as a member of The Florida Bar Board of Governors for 9 years. He was an adjunct professor of law at Nova Law School and St. Thomas University.
Jay completed his undergraduate studies at the University of Florida, graduating cum laude in 1975. He received his J.D. at South Texas College of Law. He was admitted to the Texas Bar in 1978 and to the Florida Bar in 1980 and is licensed to practice in all state and federal courts in Florida.
Jay has represented both plaintiffs and defendants in litigation. In addition to his many years representing victims of medical negligence, he has successfully defended hospitals and doctors for over 25 years. Because of his broad perspective on the litigation process, he continues to be an invited lecturer to hospitals and physicians groups, as well as to the Plaintiff's Trial Bar Associations. Jay also sits on the Board of Directors of The Urban League.
---
Jeffrey Davis, B.C.S.
Founder
Jeffrey R. Davis, P.A.

Jeffrey R. Davis grew up in Massapequa, Long Island, New York. He attended college at the State University of New York at Stony Brook where he graduated with high honors in 1983. Mr. Davis then attended law school at the University of Miami School of Law where he graduated in 1986. He was admitted to The Florida Bar that same year.
Jeffrey R. Davis has practiced in the area of Plaintiff's personal injury, wrongful death and medical malpractice exclusively. After working as an associate in a Plaintiff's injury firm Mr. Davis formed his own practice in 1997.
As a practicing lawyer, Jeffrey R. Davis has served on various committees of The Florida Bar, including several grievance committees and committees on the unauthorized practice of law. He has held memberships in several local, state and national lawyer organizations and is admitted to practice law in both Federal and State Court.
---
Deborah Gander, Esq.
Partner
Colson Hicks Eidson

Deborah J. Gander is a board certified civil trial lawyer with more than 0 million in verdicts and settlements for her clients. A partner at Colson Hicks Eidson since 2002, she represents clients who have suffered catastrophic injuries or who have lost family members; she also represents clients who face financial ruin because of insurance company bad faith.
Deborah has twenty verdicts exceeding million. This includes an award that was the largest ever in a Federal Tort Claims Act Case: million for medical negligence at a Naval hospital, and was the first time in history the U.S. government was held liable for the acts of a doctor it alleged was an "independent contractor." She recently obtained a verdict of .3 million against Royal Caribbean Cruises, Ltd. in an admiralty case on behalf of a crewmember seriously injured aboard a vessel. She obtained a verdict in excess of million for the parents of two pedestrians who were killed while crossing the street at dusk. Additionally, she handled several multimillion-dollar settlements in medical malpractice, heavy trucking (18-wheelers), and other personal injury cases.
As a personal injury attorney, Deborah works closely with clients during lengthy and complex cases, developing strong relationships that last long after the case resolves.
---
Andrew Moss, Esq.
Partner
Kutner, Rubinoff & Moss, P.A.

Andrew M. Moss is a civil trial lawyer who represents individuals and families who have suffered due to the negligence or intentional acts of others. He has been recognized as one of the leading attorneys in Florida in general personal injury litigation, medical malpractice litigation, and product liability litigation.
Drew was born and raised in Miami. He received his undergraduate degrees in U.S. history and journalism from Southern Methodist University in Dallas. A second-generation Miami attorney, Drew attended the University of Miami School of Law, from which he graduated cum laude.
During and after college, he worked as a freelance journalist. Drew was then hired by a presidential campaign as a writer and media and policy advisor. He has co-authored a book on Medicare and the American health system.
Drew is honored to be a member of the American Board of Trial Advocates, a national invitation-only association of trial lawyers. He currently serves on the Board of Directors of the Miami ABOTA Chapter. Since 2012, Drew has been listed in the prestigious publication, Best Lawyers in America, in three separate practice areas, one of a handful of attorneys in Florida to be recognized in this many specialties. Since 2015, he has been listed as one of the top 100 lawyers in South Florida by Florida Super Lawyers Magazine, a peer reviewed publication. He is named in U.S. News and World Report as one of the best lawyers in America. Drew is "AV" rated by Martindale Hubbell, the highest rating for legal accomplishment, professional achievement and ethics. Drew is a past president the Miami-Dade County Trial Lawyers Association, the largest local trial lawyers bar association in Florida.
In 2017, Drew received a .1 million verdict in an automobile accident case in Miami-Dade County, which was one of the top-20 verdicts in the State of Florida. In addition to his trial successes in personal injury cases, Drew has received a million verdict in a commercial banking case.
Drew is the managing partner of Kutner, Rubinoff & Moss.
---
Michael S. Olin, Esq.
Brodsky Fotiu-Wojtowicz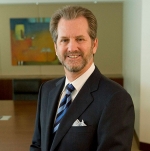 Michael Olin's civil trial skills before juries, judges and arbitration panels have continually received accolades from peers, clients and the media. His work encompasses extraordinarily diverse subjects in all venues across Florida, the United States, and even in foreign countries.
In just the last few years, for example, he has successfully tried a property conversion case against U-Haul involving the valuation of over 500 high quality master tape recordings of well-known classical musicians, recorded in the 1970s and 1980s; a personal injury case against Big Tobacco – Philip Morris – whose cigarettes the jury found caused his client's disfiguring and life-altering oral cancer; and a fraud claim against a Wall Street titan who wrongly and secretly twisted what appeared to be otherwise legal process so he could wipe out the loan of a second mortgage holder on property one of his companies had purchased. In all three of these cases, the clients recovered not only millions of dollars in compensatory damages, but millions of dollars in punitive damages. Most recently, he tried and won a claim for bad faith against Geico, which had wrongly exposed its policy holder to a multi-million dollar judgment, and required Geico to pay that full judgment, plus attorney's fees, despite its policy limits of only 0,000 in coverage.
Michael also has a niche practice in entertainment litigation, having represented HBO, Time Warner, Top Rank, Inc. (Bob Arum's company), Bernard Hopkins and Golden Boy Promotions, LLC (Oscar De La Hoya's company) in litigation or arbitration. The Top Rank and Golden Boy matters involved eight and nine figure claims and were tried to a successful verdict before juries.
Michael also knows how to settle cases. For example, he was the lead plaintiff's liability lawyer for the 163 victims in the crash of American Airlines flight 965 into a mountain near Cali, Colombia. Over a two-day period, he argued and obtained a summary judgment on liability from then U.S. District Court Judge Stanley Marcus, who shortly thereafter was appointed to the U.S. Court of Appeals for the Eleventh Circuit. Judge Marcus found – without a trial and in an opinion of more than 100 pages – that American's pilots were guilty of willful misconduct. This extraordinary result on a summary proceeding less than three years after the crash, and just a few weeks before a jury trial was to begin, established American's liability for full damages to all the passengers. After the ruling, his firm's cases were all settled within a few months.
In short, Michael's practice is far ranging, and he likes it that way. He handles business disputes and class actions, of all kinds, for small and large businesses as well as Fortune 500 companies, and for both Plaintiffs and Defendants. Michael is equally comfortable with all manner of personal injury claims for plaintiffs, from automobile accidents to aviation accidents, medical malpractice and product liability cases, along with business tort claims, like fraud, civil theft and tortious interference. He is regularly engaged by other lawyers in their personal cases, whether business, law or injury related, and frequently requested by other lawyers to assist in preparing and trying complex cases that require his level of courtroom experience and expertise.
Michael has lectured at numerous Florida Justice Association, American and Florida Bar and American Association for Justice seminars on various subjects, and is a past chairman of AAJ's Aviation Section. He has published articles and book chapters in several Bar and independent publications in the areas of Aviation law and expert witnesses.
Michael obtained his B.A. degree in Economics, with High Distinction, and his J.D. magna cum laude, from the University of Michigan where he was a member and Associate Editor of the Law Review, and a member of the Order of the Coif Honor Society. He then returned to Florida and worked as a law firm associate where, after three years, was made a partner and then a named partner at the prestigious Miami litigation firm, Podhurst Orseck, where he remained for many years.
---
Jorge Silva, Esq.
Partner
Silva & Silva

After graduating with Honors from the University of Miami School of Law, Jorge E. Silva obtained the highest score on the Florida Bar examination and was subsequently invited to teach the preparatory course for it.
Jorge E. Silva is passionate about his law practice. He has concentrated his efforts in representing victims of catastrophic medical malpractice events. He firmly believes that patients must have a solution for medical negligence and wrongful death.
Because of the Firm's involvement in major aircraft, maritime and products liability catastrophes, Jorge E. Silva has also become immersed in these matters. Specifically, he has been able to contribute substantially in areas such as establishing a breach of prevailing standards, causation, and damages.
Mr. Silva is a member of the Florida Bar, the American Bar Association, the Association of Trial Lawyers of America, and the Academy of Florida Trial Lawyers. He is also a member of the Million Dollar Advocates Forum, and is rated AV by Martindale-Hubbell, a recognition by his peers that places him amongst the top trial attorneys in the nation. The South Florida Legal Guide has also awarded Mr. Silva as "Top Attorney" 10 years consecutively. Recently, Mr. Silva was nominated as a "Best Attorneys of America" by Rue Ratings.
Additionally, in his quest to ensure that all victims of negligence, not just Silva and Silva clients, are appropriately represented, Mr. Silva devotes part of his own personal time as a law school professor. Mr. Silva designed an in depth course "Florida Medical Malpractice Practice and Procedure" and wrote the course syllabus and material used by aspiring attorneys. And, as yet another way to show his appreciation, Mr. Silva donates his entire professor's salary to the law school for the funding of a scholarship.
He has participated in "Put Something Back", a pro-bono effort by Miami attorneys and judges to represent, free of charge, those who cannot afford the services of an attorney in civil matters. He is a Charter Founder of the Coalition for Family Safety and sits on the Board of Advisors for Misioneros del Camino, a non-profit organization dedicated to helping orphaned children.
In 2004 and 2005 Mr. Silva completed the New York City Marathon with the objective of raising funds to facilitate the construction of a Hospital as well as to provide education to orphan children in Sumpango, Guatemala. Thereafter, Mr. Silva ran the Marine Corp and Chicago Marathons to further fund the hospital.
Jorge E. Silva is married and a father of four. As such, he is tenacious in his quest to be an advocate for victims and their families.
---
Fees
Audio Course and Materials Package – Download: $425 $212.50
Audio Course and Materials Package – CD: $425 $212.50
CDs: plus $8.50 shipping and, in CA, sales tax.
This program is no longer eligible for CLE credit in Florida.
CLE Credit
FL General:  This program is no longer approved for general CLE credit in Florida. CLE expired on November 30, 2020.
CA General: This program is approved for 6.5 hours of general CLE in California.
Upon request, Pincus Pro Ed will provide any information an attorney needs to support their application for CLE approval in other states other than what is listed above.
Terms and Policies
Recording policy: No audio or video recording of any program is permitted.
Seminar Cancellations: Should you be unable to attend for any reason, please inform us in writing no later than 14 days prior to the event and a credit voucher will be issued. If you prefer, a refund, less a $50 non-refundable deposit, will be issued. No refunds or credits will be given for cancellations received within 14 days of an event. However, if you notify us within 14 days of an event, and wish to convert your in-person attendance registration to an Audio CD package (with handout), we can do so. A small additional shipping charge, and sales tax in CA, will be incurred. No shipping charge is incurred for downloads. We will also issue a voucher for the amount paid if you notify us within 14 days and prefer not to have the audio recording.
Substitutions may be made at any time.
Webinars, Tele-seminars and Webcast Cancellations: Once log-in codes and passwords are issued for a webinar, tele-seminars or webcasts, a refund is not possible. If for any reason you cannot attend the event after you have received the codes, we will automatically convert your registration to an instant streaming/instant download or CD format and provide you with the information you need to access the recording after the program concludes and the recording is available.  Conversions to CD require a $8.50 shipping fee, and in CA, 9% sales tax.
Downloads/CDs/DVDs – Refund policy:
Downloads are non-returnable/non-refundable once purchased and received. Tapes, CDs and DVDs are returnable for a full refund or replacement if defective, within 90 days of purchase.
Reminder: The room temperature at hotels and other seminar locations are notoriously hard to control. Please bring a sweater or jacket in case it gets cold and/or layer as if you are going to the movies so you are comfortable.