Persuasive Appellate Brief Writing (WA) (Recorded Package)
Audio program! (check our CLE Programs page for live versions)
This is one of those programs that you really can not miss if you want to improve your brief writing and learn how to convince the court more effectively – regardless of your experience level.  While there will be some review of the basics, the bulk of the course is centered around providing you with exceptional and practical advice and an inside look at what judges find persuasive.
You will learn from two WA state court Appellate Judges – Judge Rebecca Pennell and Judge Rebecca Glasgow, former WA Supreme Court Justice Philip Talmadge (now in private practice) and another expert practitioner Cynthia Jones.
The seminar will show you how to draft a clear – and persuasive – appellate brief in the Washington state appellate courts (much advice will also apply to Federal Court, with the exception of the discussions regarding WA state rules and case law).
Many judges no longer hear oral argument for appellate cases – so written advocacy has never been more important.
All types of attorneys will gain invaluable insight into effective legal writing from the perspective of appellate judges and long-term appellate attorneys.
This seminar will provide concrete and practical tips for writing a persuasive appellate brief from the cover page to the conclusion. It will also bring you up-to-speed on case law and ethics issues (with 0.5 units of ethics credits).
You will learn about best practices, identifying what issues to raise on appeal, what judges find persuasive, briefing rules (formal and informal), and appellate specific issues and standards.
Your judges will tell you how to create a persuasive and efficient analysis structure in your brief and they'll talk to you about how to help the court want to rule in your favor.
You will also learn how to effectively use the record and your statement of facts.  Of course you'll learn about your obligations to the court as well as your client.
And lastly, you'll receive one or two checklists – created by the judges who are part of your faculty.
If you write appellate briefs, don't miss this program – you won't get this much advice organized carefully and presented in a three-hour program anywhere else.
This program will be recorded live on March 15, 2022. The recorded package, available in audio or video format and including seminar materials, will be available two to three weeks after the live program ends.*

* The Video recording is a video of the webinar (including sound). The Audio recording is audio only, for those who wish to listen to it without visuals (such as in the car). You can also purchase both formats together. Note: All downloads must be downloaded to a computer first, before transferring them to another device.
Have you ever thought about improving your public speaking skills? Now is the time! Get Faith Pincus' newly published book Being Heard: Presentation Skills for Attorneys, from the ABA now (ABA members receive 10%-20% off). You can order a signed paperback from us at a discount here (free shipping). It is also available on Amazon in Kindle and paperback versions.
What You Will Learn
Topics
Being Aware of the Audience for the Submission
Motions for Discretionary Review (RAP 2.3)
Merits Briefs – Court of Appeals/Supreme Court
Petitions for Review (RAP 13.4)
Motions for Reconsideration/Publication
Selecting the Issues on Appeal
Not all issues raised in the trial court can, or should, be argued on appeal
How should counsel select the issues?
Creating your Checklist
Building Blocks to an Effective Appellate Pleading
Persuasive (and efficient!) analysis structure

How do you want our analysis to go?
CREAC/IREAC
Common mistakes brief writers make in the "explanation of the rule" and "application" portions of the analysis
How to efficiently address counter-arguments
RAP format requirements/court best practices
Convincing the court to want to rule in your favor 
Using fundamental principles as persuasive tools—yet another checklist.
The hard part: Tips for predicting what concerns judges might have with your argument and then addressing those concerns
A strong first impression: Roadmap for an effective introduction
Ethical Issues in Brief Writing
Ethical obligations under RPC 3.1/RAP 18.9(a)
Client explanation of issues on appeal
RPC 3.3 requirements regarding citing authorities and extra-record material
Recorded/Recording on March 15, 2022
Testimonials
The following testimonials are from our previous brief writing courses held in Washington:
"The BEST writing CLE I have ever attended! The appellate 'insider knowledge' made this CLE extremely valuable." Marlyn Hawkins, Esq.
"This was the best legal seminar I have attended. The material was topical, well-presented and entertaining." Guy Stilson, Esq.
"Awesome! The first CLE I have been to where all the info was helpful and the presenters held my attention throughout." Inge Fordham, Esq.
"Excellent program with comprehensive course material. I found this very helpful and was impressed with the high quality of this seminar. The faculty was extremely knowledgeable. This course exceeded my expectations." Alice Peiler, Esq.
"The particular combination of speakers was excellent to make a broad topic relevant to any practitioners. The depth of knowledge was amazing. Normally, I would have to go to 2-3 CLEs to get the variety of insight and compare information from various jurisdictions." Marlyn Hawkins, Esq.
"Far exceeded expectations. Concise, well presented and very helpful." Robert V. Cohune, Esq.
"I have not filed/written an appeal for 15 years. I wanted the nuts & bolts. Speakers provided this in an interesting and informative manner." Chris Schaefer, Esq.
"Good coverage of topic. Speakers had relevant, helpful insights."
"Excellent job by both lecturers. Enjoyed the presentation very much. No wasted time." Maureen Pacheco, Esq.
"Not only did I learn tips crucial for appellate brief writing, I learned tips that are crucial to trial brief writing!" Jully Pae, Esq.
"This program was really as nearly perfect as any I've ever attended." Tyna Orren, Esq.
"Our firm has experienced a recent rise in appeals – the subject matter is helpful and informative." Inge Fordham, Esq.
"Both speakers were very strong." Mitchell Abbott, Esq.
"Overall, a really good seminar. Very engaging speakers." Jane Reid
"The only good legal seminar I have attended since I became an attorney eight years ago."
"Both speakers were outstanding! Their positions/authority gave them gravitas, but they offered great clarity and humor as well."
"One of the best I've attended."
"These guys were awesome. Very organized. Very straightforward. Very informative. Also very interesting."
"The written materials were fantastic!"
"100% delivery of the goods!"
"Very clear, engaging, enthusiastic."
"Highly satisfied!"
"The presentation of materials was effective and easy to follow."
"I have not previously filed an appellate brief but feel more confident in my ability to draft and file my first brief."
"All were very good speakers and worked well together in teaching the class. The offering of different opinions was also nice to hear. I really enjoyed the course and learned a lot."
"The presenters went into great detail which I sought from this CLE."
"All presenters were great. Informative and insightful."
"This was the most effective team teaching I've ever witnessed. These guys work together brilliantly, playing off of each other, and moving through lots of material in a lively and engaging fashion." Robin Campbell, Esq.
"The seminar was very well organized and direct in addressing how the techniques would lead to a desirable outcome when used, and the consideration as to why they work."
"Excellent program, excellent speakers."
"Good review of basic appellate brief writing. Very clear-hit all important points. Lots of good tips. Both were good speakers."
"Both presenters are excellent. Presentations were clear, concise, and easy to follow."
"I thoroughly enjoyed this seminar. I thought it was well organized and well thought out / practiced. The speakers have great chemistry in giving a joint presentation."
"Great examples-never a dull moment during the presentation."
"Taught me some new things I will definitely use in my next brief. Great speakers for clarity."
"Absolutely consummate professionals."
"I am brushing up on my appellate briefing skills to write my first such brief in many years – this was excellent & my confidence is restored!"
"The speakers make an effective team."
"Greg was articulate, had an effective way of deliverance, well-informed on the topics discussed."
"Paul was organized, well-informed, gave interesting recent cases/examples and interacted well with Greg and the audience."
"The program made drafting an appellate brief seem doable."
Faculty
Hon. Rebecca Glasgow
Judge
Washington State Court of Appeals, Division II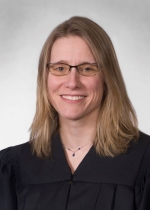 Judge Rebecca Glasgow was elected to Division Two of the Washington Court of Appeals in 2018. Prior to joining the bench, she served as a Deputy Solicitor General in the Washington Attorney General's Office. She litigated cases in the areas of elections, immigration, and civil rights, for example. She also served as general counsel to the Washington Secretary of State. Before joining the Attorney General's Office, she served as a law clerk at the Washington Supreme Court for five years.
Rebecca has a long history of service to her community and was named a Washington State Bar Association "Local Hero" in 2014. She volunteered at her local legal clinic for more than a decade, helping clients who could not afford an attorney. Rebecca has served as the statewide President of Washington Women Lawyers and is now a member of Washington's Gender and Justice Commission. Rebecca is a founding member of the Judicial Institute, which promotes the election and appointment of people of color, LGBT people, and women to the bench. She has also served on the University of Washington Law School Dean's Leadership Council.
Rebecca graduated magna cum laude from Wake Forest University and with honors from the University of Washington School of Law, where she was an executive editor of the Washington Law Review.
Rebecca and her husband live with their son, dog, and chickens in Thurston County.
---
Hon. Rebecca L. Pennell
Chief Judge
Washington State Court of Appeals, Division III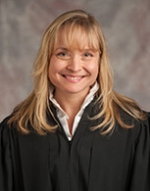 Judge Pennell grew up in Richland, Washington. She earned her law degree from Stanford Law School in 1996, graduating with distinction. After law school, Judge Pennell clerked for U.S. District Court Judge Robert H. Whaley in Spokane. In 1999, Judge Pennell moved to Yakima after being awarded a legal services fellowship from the Skadden Fellowship Foundation. Judge Pennell later joined the Federal Defenders, where she practiced for over 15 years as a trial lawyer and appellate counsel. In addition to her advocacy work, Judge Pennell helped establish re-entry drug court programs in Yakima and the Tri-Cities.
Judge Pennell lives in Yakima with her husband and daughter. She is committed to community service, including participation in Rotary, the Washington State Civil Legal Aid Oversight Committee, and past service on the boards of the YWCA of Yakima and the Yakima Area Arboretum
---
Cynthia B. Jones, Esq.
Founder
Jones Legal Group, LLC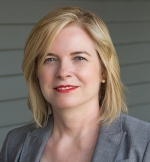 Jones Legal Group, LLC is headed by Cynthia B. Jones, a dedicated legal professional well-versed in appellate practice and litigation. Cynthia concentrates her practice on civil and criminal appeals and civil litigation, including constitutional and criminal cases in federal and state courts.
Cynthia's appellate experience includes appeals in the Ninth Circuit Court of Appeals, the Supreme Court of Washington and the various Courts of Appeal in Washington. She was named as a Super Lawyer by Washington Law & Politics Magazine in 2021, 2020, 2019, 2018, and 2017, following recognition as a Rising Star from 2010-2016. She started her legal career clerking for Washington Supreme Court Justice Charles W. Johnson.
Ms. Jones was appointed by the Western District of Washington United States District Court to serve a three-year term as Lawyer Representative to the Ninth Circuit. Lawyer Representatives are chosen to serve three-year terms representing attorneys practicing in each of the Ninth Circuit's 15 districts in nine western states and two Pacific Island jurisdictions.
---
Philip Talmadge, Esq.
Founder
Talmadge/Fitzpatrick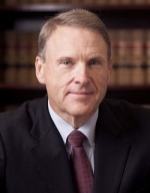 Phil Talmadge is a former Washington Supreme Court Justice.
He is a member of the American Academy of Appellate Lawyers and the Washington State Appellate Lawyers Association. Phil has been named Super Lawyer in Washington Law & Politics and was a Washington State Senator.
He practices exclusively in the areas of Appellate Law and Attorney Ethics. Phil received his B.A. from Yale University and his J.D. from the University of Washington and has been an attorney since 1976.
---
Fees
Pre-order now and save $50 on your purchase with the Early Bird Rate!*
Your discount is automatically applied at check out – no coupon needed.
Three Recorded Package options to choose from:
Video (with sound)* Recording & Materials Package – CD or Download:  $249
Early Bird Rate: $199
Audio Only* Recording & Materials Package – CD or Download:  $249
Early Bird Rate: $199
Order both the Video* and Audio Only* Packages for only $50 more – CD or Download:  $299
Early Bird Rate: $249
*The Video recording is a video of the webinar (with sound). The Audio recording is audio only, for those who wish to listen to it without visuals (such as in the car).
Note: All downloads must be downloaded to a computer first, before transferring them to another device.
For CDs, please add $8.50 shipping and, in CA, sales tax.
*Your discount is automatically applied at check out.
This program will be recorded live on March 15, 2022.
(Recorded packages are available approximately two to three weeks after the seminar is held.)
CLE Credit
WA General: This program is approved for 2.75 units of general CLE in Washington.
WA Ethics: Approved for 0.5 Ethics units.
OR General: This program is pending approval for general CLE on Oregon.
CA General:  This program is approved for 3.25 units of general CLE in California.
CA Ethics: Approved for 0.5 ethics units.
NY General: This course is eligible for approval, under New York's CLE Approved Jurisdiction policy, for 3.25 CLE units. Pincus Professional Education is a CA Accredited Provider, which is a NY approved jurisdiction. See Section 6 of the New York State CLE Board Regulations and Guidelines for further information.
This program is approved for CLE in the states listed above.  Upon request, Pincus Pro Ed will provide any information an attorney needs to support their application for CLE approval in other states other than what is listed above. Many attorneys ask for this and are approved in other states.