Luis Gonzalez is our Latest Featured Speaker!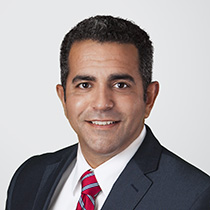 Our latest featured speaker is Luis Gonzalez from Holland & Knight!
Luis will be speaking at our upcoming 8th Annual Circuit Court Boot Camp seminar in Orlando on June 7th. He also spoke at our 6th Annual Circuit Court Boot Camp, and we're so glad to have him back!
Luis Gonzalez is an employment and liquor license attorney in Holland & Knight's Orlando office. From providing representation in employment matters and contract disputes to advising how to obtain a distributor or restaurant liquor license, Mr. Gonzalez offers clients an in-depth understanding of a broad subject matter.
Mr. Gonzalez helps clients enforce noncompetition and nonsolicitation agreements, protect trade secrets, conduct internal investigations and resolve contract disputes and business torts. In addition, he represents employers in litigation involving a broad range of employment-related matters, including claims of discrimination, wage and hour violations, the Family and Medical Leave Act (FMLA), whistleblower/retaliation and sexual harassment. He represents clients before federal and state courts and in arbitration. He has experience with collective actions under the Fair Labor Standards Act (FLSA) and class action claims under the Fair Credit Reporting Act (FCRA). Mr. Gonzalez counsels companies on handling high-risk employee terminations and layoffs to avoid litigation.
Mr. Gonzalez counsels all segments of the alcohol industry – including craft breweries, suppliers, wholesale distributors, restaurants, hotels, bars, nonprofits and clubs – in liquor licenses, tax, promotions, marketing and administrative enforcement actions. He guides clients through concession, catering and food and beverage agreements, among other related agreements. Additionally, he assists with mergers and acquisitions involving the transfer or acquisition of liquor licenses.
Previously, Mr. Gonzalez was in law enforcement as a uniformed and undercover investigator, SWAT team member and K-9 handler. He also served as a special agent and special agent supervisor with the Florida Division of Alcoholic Beverages and Tobacco. This unique background offers clients a valuable perspective in investigating and defending employee claims and in navigating the heavily regulated alcohol beverage industry.
Mr. Gonzalez dedicates a portion of his time to pro bono matters, including representing families seeking guardianship of elderly parents and disabled adults. He is a member of the Orlando Diversity Committee, whose purpose is to promote, celebrate, support and encourage diversity within the office and business community.