James Robinson is our Latest Featured Speaker!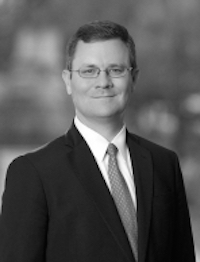 Our latest Featured Speaker is James Robinson of White & Case LLP!
Jim will be speaking at our 7th Annual Circuit Court Boot Camp in Fort Lauderdale on June 1, 2018.
In past years, Jim was on the faculty panels for our Expert Witnesses, Mastering the Deposition, and Persuasive Brief Writing seminars in Florida. Attendees raved about his clear, articulate delivery, and engaging demeanor.
Drawing on his significant experience in state and federal courts handling virtually every type of civil case, Jim's practice is primarily focused on commercial trial work. He works to limit his clients' exposure and to protect their interests.
Jim has particular experience of representing regional and national law firms in legal malpractice lawsuits. In such cases he takes a thorough, hands-on approach, managing all aspects of the lawsuits.
Many of Jim's recent commercial cases include representation of clients connected to the banking industry. Such cases include representation of financial technology (fintech) companies involved with merchant services and credit card processing in both domestic and international disputes. In addition, Jim has represented a series of banks against multimillion-dollar lender liability lawsuits, most of which were resolved with summary judgment in Jim's clients' favor. For banking clients, Jim also brings his experience of prosecuting dozens of commercial foreclosure lawsuits on loans totaling over US $ 1.5 billion. Jim represents foreign and domestic corporations in contract disputes, regulatory and compliance matters, and consumer class actions at various stages, including appeals. He has successfully defended numerous director and officer liability actions, and has successfully represented real estate developers and contractors in real estate disputes throughout the United States.
Jim is an active member of a number of professional associations, including the Federal Bar Association, the Trial Lawyers Section of The Florida Bar, the International Law Section of The Florida Bar, the Miami-Dade County Bar Association and the J. Reuben Clark Law Society.
He has taken lead roles in a significant number of professional committees, including as the Chair of the International Litigation and Arbitration Committee (2008), the Chair of the International Litigation and Arbitration Committee Conference (2007), a Steering Committee Member on the International Litigation Update (2005–2006), and as a Chair of the FGCU Alumni Association Board of Directors (2009–2011). He has also served on the Law Alumni Council, University of Florida Levin College of Law.