Expert Witnesses: Prep, Depos, Exam and Cross – How to Get it Right (FL)
Audio program! (check our CLE Programs page for live versions)
Designed for attorneys and anyone else involved with Expert Witnesses, this program is a must!
You will learn how to select effective Expert Witnesses and how to avoid the time bombs. Faculty will discuss how to move to disqualify your adversary's expert, how to prepare effective Expert Witness reports and exhibits and how to prepare yourself for deposing the other side's Expert Witnesses.
You'll then get sound advice and strategies about how to prepare your Expert Witness for deposition, what to do when your Expert Witness does poorly in the depo or on the stand and how to handle your direct examination of your own Expert Witness.
Next you'll learn how to prepare for, outline and carry out the cross examination.
This is a very thorough course with your faculty discussing most everything to do with Expert Witnesses before trial and during trial, including tips from the bench.
This program was recorded in 2014 and the advice is timeless!
Do you want to improve your public speaking skills? Get Faith Pincus' newly published book Being Heard: Presentation Skills for Attorneys, from the ABA now (ABA members receive 10% off). It is also available on Amazon in Kindle and paperback versions.
What You Will Learn
How to select effective Expert Witnesses (and avoid the time bombs)
Moving to disqualify your adversary's expert
Preparing effective Expert Witness reports and exhibits
Preparing yourself for deposing the other side's Expert Witnesses
Preparing the Expert Witness for deposition
What to do when your Expert Witness does poorly in the depo or on the stand
Direct examination of your own Expert Witness
Preparing for the cross
Outlining the cross
Carrying out the cross
Testimonials
"I did not know too much about expert witness, gave me a good foundation." Amanda Allen, Esq.
"100% satisfied, the seminar was comprehensive and interesting." Jerome Levenstein, Esq.
"Very Satisfied." Gus Bravo, Esq.
"Communication of practical application and examples was awesome."
"Panelist very knowledgeable and presented concisely and persuasively. They shared practical information and were very approachable (e.g offering to provide sample examples of motions)."
"Fantastic presentation that I am sure I will refer back to."
"Excellent program – Thank you!" Joe Ankus, Esq.
"Very informative. I will use the techniques in my practice immediately."
"Nice to hear tips/ideas from just retired trial judge."
"[Speaker] Outstanding presentation with excellent practical advice which is very valuable given his experience on the bench." Maria Dantes Sanchez, Esq.
"[Speaker] He was very helpful. Great delivery. Great examples. His recommendations are very practical in litigation." Carolina A. Cespedes, Esq.
"The speakers were knowledgeable, engaging, and interesting." Hal M. Lucas, Esq.
"Good program, well chosen subject matter." Albert Caruana, Esq.
"Simplistic style of materials is appreciated."
"Very good, practical information."
"Excellent – very entertaining and excellent delivery."
"Fantastic seminar – learned a lot!"
"Speakers were excellent."
Faculty
Chief Judge Juan Ramirez, Jr. (Ret.)
Mediator, Arbitrator and Consultant Retired Chief Judge, District Court of Appeal
ADR Miami LLC

Juan Ramirez, Jr. is a retired state judge, having served 12 years as an appellate judge and 12 years as a trial judge.
He was a Neutral at JAMS from May 2012 to February 2014. He previously served as Chief Judge of the Third District Court of Appeal from 2009 to 2011.
He is a prolific writer, having authored a three-volume treatise on Florida Civil Procedure and a three-volume set on Florida Evidence, both published by Lexis-Nexis and updated regularly. In addition, he wrote a casebook on Florida Civil Procedure used at various Florida law schools.
Ramirez has been an adjunct professor in every law school in the South Florida area, having taught at the University of Miami, Florida International University, St. Thomas University and Nova Southeastern University. He is currently an adjunct professor at the University of Miami School of Law.
His extensive experience as an appellate and a trial court judge, author, and teacher have provided former Judge Ramirez with an acute understanding of the law, sound judgment, and a sharp legal mind.
Born in Havana, Cuba, former Judge Ramirez is fluent in Spanish.
---
Hon. Scott J. Silverman
Judge (Ret.)
JAMS

In his book, "The Path to Justice: The Story of Florida's Eleventh Judicial Circuit," noted historian Dr. Paul George referred to Judge Scott J. Silverman as "one of the circuit's many stellar judges."
Scott J. Silverman has been a member of South Florida's judiciary for 21 years. In 1990, at the age of 33, voters elected him to the Dade County Court bench where he quickly made his mark as an adept, devoted, and tireless jurist in the DUI division of the Metro-Justice Building.
While on the county court, Judge Silverman served at the Joseph Caleb Center and Miami Beach Branch Court. His time as the "Law East of Biscayne Bay" was particularly satisfying, since he was a graduate of Miami Beach Senior High School. He later returned to the justice building were he served as the Associate Administrative Judge for Traffic Related Matters from 1997 to1999.
In 1998, Judge Silverman was elected to the circuit court and presided over cases ranging from theft to murder. After seven years, he transferred to the calm and sedate world of the family division, and then moved to the civil division where he sat for six years. Today, Judge Silverman is once again presiding over dissolutions.
During his judicial tenure, Judge Silverman served as an Associate Judge on Florida's First and Fourth District Courts of Appeal, and was also nominated to serve on the Third District Court of Appeal. He is a former two-time chair of the Florida Supreme Court's Judicial Ethics Advisory Committee, and a former chair of the Florida Bar's Committee on the Rules of Judicial Administration.
Among his prestigious honors, Judge Silverman is a recipient of the American Judicature Society's premiere state honor, the Herbert Harley Award; the Justice Award, from the League of Prosecutors; and the highest honor bestowed by the Conference of County Court Judges of Florida, the Judge Harvey Ford Leadership Award.
Judge Silverman is the Eleventh Judicial Circuit's Court Historian and is a founding member of the Eleventh Judicial Circuit Historical Society.
---
Kristin E. Bianculli, Esq.
Kelley Uustal

A native of Cherry Hill, New Jersey, Kristin moved to South Florida in 2004. Prior to relocating, she obtained her Bachelor of Science degree, summa cum laude, in Business Administration with a Marketing concentration from Saint Joseph's University in Philadelphia, Pennsylvania. While at Saint Joe's, Kristin received numerous awards for outstanding academic achievement and graduated at the very top of her class from the Haub School of Business. She also studied abroad in Italy at the American University of Rome during her junior year.
Kristin earned her Juris Doctor degree, cum laude, from the Shepard Broad Law Center of Nova Southeastern University. During law school, Kristin received a number of book awards and was an active member of ATLA (American Trial Lawyers Association), where she competed in the San Diego International Mock Trial Competition. She was also a dedicated member of Nova Law Review, serving as Associate Technical Editor and as instructor of the Summer Candidacy Program. While going to law school, she began her career at Kelley / Uustal as a law clerk in 2006.
Kristin became a member of the Florida Bar in 2008. As an Associate at Kelley / Uustal, she is proud to be part of a firm of trial lawyers who fight to protect consumers' rights and help the victims of corporate negligence. Kristin practices in the areas of personal injury, concentrating in auto collision cases, premises liability, nursing home neglect and abuse, wrongful death, and products liability.
Kristin's professional memberships include the American Bar Association, the Florida Justice Association, the Broward County Justice Association, the American Association for Justice, the Florida Association of Women Lawyers, the Broward County Women Lawyers' Association and the Young Lawyers Division of the Florida Bar.
---
Neil D. Kodsi, Esq.
Jackson Lewis

Mr. Kodsi is a seasoned trial lawyer with nearly twenty (20) years of jury trial experience. Mr. Kodsi has tried numerous cases to verdict in both federal and state court. Additionally, he has successfully tried cases involving many different theories of liability, including breach of contract, bad faith, first-party insurance, patent infringement, employment discrimination, product liability, toxic tort, wrongful death, and personal injury.
Prior to forming his own firm, The Law Offices of Neil D. Kodsi, Mr. Kodsi worked for large national and/or regional law firms, where he was one of the "go-to" trial lawyers for those firms for complex cases involving highly complicated expert testimony. Simply put, Mr. Kodsi is — first and foremost — a trial lawyer.
Mr. Kodsi's skills as a trial lawyer have been recognized nationally and locally. He has received public recognition for his skills as a trial advocate in a wide array of cases, ranging from representation of Fortune 100 corporations in high-profile complex wrongful death cases to serving as pro-bono trial counsel representing thousands of Florida Citizens seeking Medicare coverage.
Most recently, in March 2012, Neil served as pro bono litigation counsel for a group of autistic children seeking to defeat another Florida State Policy — one that was denying coverage for behavioral therapy for the more than 8,500 autistic children in Florida covered by Medicaid. After a four-day trial in front of U.S. District Court Judge Joan Lenard, Mr. Kodsi and his co-counsel obtained an Order requiring the State of Florida to provide this treatment for all autistic children in Florida covered by Medicaid. In her Order, Judge Lenard referred to this case as one of the most important cases she has heard in her sixteen years on the bench. This case also has received substantial national media attention.
---
Andrew R. Kruppa, Esq.
Partner
Squire Sanders

Andrew Kruppa chairs the Litigation Practice Group in Miami and focuses his practice on trial and appellate matters. He has experience litigating a broad range of complex commercial disputes, product defect and liability claims, tort and bankruptcy matters. His litigation experience extends beyond Florida and includes representing clients at trial in California, Indiana, New York, Ohio and South Carolina.
Andy was again named a Rising Star in Ohio Super Lawyers in 2013 after being selected by his peers as a top up and coming Ohio lawyer 40 years of age and younger or in the practice of law for less than 10 years. He is also listed as "up and coming" in Florida Trend magazine's 2011 list of Legal Elite.
Andy is a member of the Dade County Bar Association, the Cuban American Bar Association, the Florida Bar Association and the District of Columbia Bar Association. He also serves as General Counsel of Style Saves, Inc., a not-for-profit charity that raises money from within the fashion and entertainment industry to donate clothing to underprivileged children. Andy also has an active pro bono practice.
---
Barbara J. Riesberg, Esq.
Founder
RiesbergLaw

Barbara J. Riesberg is an experienced litigation lawyer with more than 20 years experience. Ms. Riesberg focuses her practice primarily on complex commercial litigation in state and federal courts, including trials and appeals, as well as securities arbitration. Her past and present clients are corporations, public entities, and individuals. Ms. Riesberg regularly litigates claims for breaches of contracts and other commercial agreements, business torts, securities issues, employment issues, property development, foreclosure and other real estate disputes. She also counsels her clients on strategies designed to avoid protracted and costly litigation.
Ms. Riesberg previously acted as a Special Assistant Town Attorney for the Town of Medley, Florida. In addition to providing litigation services, she counseled the Town on comprehensive land use planning, amendments to the Town's Zoning Code as well as a variety of legal issues arising on a daily basis.
Ms. Riesberg has served as a pro bono guardian ad litem on behalf of children involved in custody disputes, and previously served on the Board of Directors for the Dade County Bar Association Young Lawyers Section. Ms. Riesberg also produced an acclaimed 12-part cable television series examining various perspectives on legal issues affecting adolescents.
Currently, Ms. Riesberg is the Chapter Director for IvyLife-Miami. In addition, she has served as Vice-Chair of a Florida Bar Grievance Committee, Chair of the Florida Bar, Business Law Section, Business Litigation Committee and is currently the Chair of the Florida Bar, Business Law Section State and Federal Judicial Liaison Committee. She is also a past President of the Women's Chamber of Commerce of Miami-Dade County.
She has been included in Florida Trend Magazine's List of Legal Elite. In addition, Ms. Riesberg was recognized as a Super Lawyer by Florida Super Lawyers Magazine. She is also rated "AV" by Martindale-Hubbell, the highest rating available. The "AV" Peer Review Rating identifies a lawyer with very high to preeminent legal ability. It is a reflection of expertise, experience, integrity and overall professional excellence.
Ms. Riesberg graduated magna cum laude from the University of Pittsburgh in 1989, and obtained her law degree from Cornell Law School in 1992. She is admitted to practice before all Florida state courts, the United States District Court for the Southern District of Florida, the United States District Court for the Middle District of Florida and the United States Court of Appeals for the Eleventh Circuit.
---
James N. Robinson II, Esq.
Partner
White & Case LLP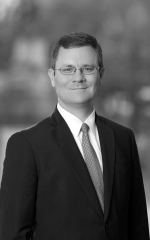 Drawing on his significant experience in state and federal courts handling virtually every type of civil case, Jim's practice is primarily focused on commercial trial work. He works to limit his clients' exposure and to protect their interests.
Jim has particular experience of representing regional and national law firms in legal malpractice lawsuits. In such cases he takes a thorough, hands-on approach, managing all aspects of the lawsuits.
Many of Jim's recent commercial cases include representation of clients connected to the banking industry. Such cases include representation of financial technology (fintech) companies involved with merchant services and credit card processing in both domestic and international disputes. In addition, Jim has represented a series of banks against multimillion-dollar lender liability lawsuits, most of which were resolved with summary judgment in Jim's clients' favor. For banking clients, Jim also brings his experience of prosecuting dozens of commercial foreclosure lawsuits on loans totaling over US $ 1.5 billion. Jim represents foreign and domestic corporations in contract disputes, regulatory and compliance matters, and consumer class actions at various stages, including appeals. He has successfully defended numerous director and officer liability actions, and has successfully represented real estate developers and contractors in real estate disputes throughout the United States.
Jim is an active member of a number of professional associations, including the Federal Bar Association, the Trial Lawyers Section of The Florida Bar, the International Law Section of The Florida Bar, the Miami-Dade County Bar Association and the J. Reuben Clark Law Society.
He has taken lead roles in a significant number of professional committees, including as the Chair of the International Litigation and Arbitration Committee (2008), the Chair of the International Litigation and Arbitration Committee Conference (2007), a Steering Committee Member on the International Litigation Update (2005–2006), and as a Chair of the FGCU Alumni Association Board of Directors (2009–2011). He has also served on the Law Alumni Council, University of Florida Levin College of Law.
---
Fees
Audio Course and Materials Package – CD or Download: $425
CD: plus $7.50 shipping and, in CA, sales tax.
CLE Credit
FL General:  This program is no longer approved for Florida general CLE credit. Please contact Pincus Professional Education for assistance with applying for individual credit.
CA General: This program is approved for 6.0 general CLE units in California.
This program is approved for CLE in the states listed above.  Upon request, Pincus Pro Ed will provide any information an attorney needs to support their application for CLE approval in other states other than what is listed above.
Terms and Policies
Recording policy: No audio or video recording of any program is permitted.
Seminar Cancellations: Should you be unable to attend for any reason, please inform us in writing no later than 14 days prior to the event and a credit voucher will be issued. If you prefer, a refund, less a $50 non-refundable deposit, will be issued. No refunds or credits will be given for cancellations received within 14 days of an event. However, if you notify us within 14 days of an event, and wish to convert your in-person attendance registration to an Audio CD package (with handout), we can do so. A small additional shipping charge, and sales tax in CA, will be incurred. No shipping charge is incurred for downloads. We will also issue a voucher for the amount paid if you notify us within 14 days and prefer not to have the audio recording.
Substitutions may be made at any time.
Webinars, Tele-seminars and Webcast Cancellations: Once log-in codes and passwords are issued for a webinar, tele-seminars or webcasts, a refund is not possible. If for any reason you cannot attend the event after you have received the codes, we will automatically convert your registration to an instant streaming/instant download or CD format and provide you with the information you need to access the recording after the program concludes and the recording is available.  Conversions to CD require a $7.50 shipping fee, and in CA, 9% sales tax.
Downloads/CDs/DVDs – Refund policy:
Downloads are non-returnable/non-refundable once purchased and received. Tapes, CDs and DVDs are returnable for a full refund or replacement if defective, within 90 days of purchase.
Reminder: The room temperature at hotels and other seminar locations are notoriously hard to control. Please bring a sweater or jacket in case it gets cold and/or layer as if you are going to the movies so you are comfortable.