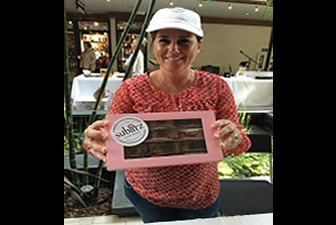 Recently Faith interviewed a friend, Daphne Subar, about her leaving the law to open her own baked goods company, Subarz. Since Faith left the law 13 years ago to open up Pincus Professional Education, she thought it would be interesting to hear from another attorney about that experience. And, well, she also loves the Subarz treats, so that's worth talking about too!
Daphne Subar is the creator of Subarz and she took the time to answer a few questions about her background and journey in creating the company:
1. How long did you practice law?I practiced law for approximately 26 years. I started out as a litigator at Knapp, Petersen & Clarke for the first 10 years of my career. My litigation practice included aviation law, product liability, personal injury and insurance defense. The highlight of my years at Knapp, Petersen & Clarke was serving as national counsel for a large pharmaceutical company involved in national and international litigation. After leaving Knapp, Petersen & Clarke, I spend the rest of my legal career as a contract attorney taking on special projects and assignments from a variety of law firms, both large and small.
2. When did you decide to leave law and create Subarz?

For years I have loved to bake and due to food allergies and dietary issues with my three daughters, I needed to experiment in the kitchen to make recipes safe for my family. I have always wanted to start a bakery but honestly was scared. When I finally decided I would try, I wanted to invent or create a baked good that no one else had made. After many experiments in the kitchen, Subarz were developed. Subarz are a cross between mandelbread/biscotti and a cookie/bar. They combine the crunchiness of biscotti with the sweetness of a cookie. I also wanted to experiment with different flavors and while I started with a Traditional Chocolate Chip with Cinnamon Sugar, I soon began experimenting with other unique flavor combinations and the results have been wonderful. One of our most popular barz is Salted Apricot Caramel.
3. Why these particular cookies?

Over the years, I baked mandelbread (a traditional Jewish cookie similar to biscotti) for family and friends and it was a favorite by many. I decided I wanted to keep some of the traditional texture of mandelbread and the flavor, but I wanted to modify it somewhat to make it unique and different.
4. Where are you located?

The barz are baked in Studio City and sales are through the website and email order.
5. What was the biggest challenge?

The biggest challenge was probably getting enough nerve to do it and not to question it and worry about every detail. A million things can go wrong and many things can go right and if you don't try, you will never know. I did not want to be one of those people who late in life questioned what they did, if they should have done something different, or why they didn't follow their passion. I am continually faced with challenges and am learning new things every day. Currently, my biggest challenge may be marketing and determining the best way to spread the word about these unique treats.
6. Are you glad you did it and what advice would you give to others?

Yes, I am glad I did it. It was scary (and still is at times) but until I tried it, I would never know the potential of Subarz. While I truly enjoyed the practice of law, I was ready to try something new. As for advice for others, you should never stay in a field that doesn't interest and excite you. If there is something that you are passionate about and want to try, you should. If it doesn't succeed, or isn't what you had hoped, you can always return to the practice of law.
7. What is your website and contact information?

My website, www.subarzsweets.com is constantly being updated as new flavors are added monthly. All orders can be placed through the website or by sending an email to orders@subarzsweets.com. If you have specific questions or need more information about any of the products, I can be contacted directly at daphne@subarzsweets.com. Lastly, our telephone number is (323) 905-BARZ (2279).