Kathryn Arnold is our Latest Featured Speaker!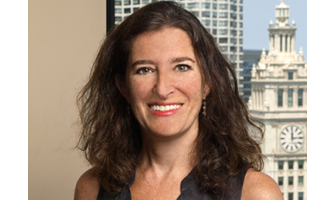 Our latest featured speaker is Kathryn Arnold from Taft Stettinius & Hollister LLP!
Kathryn Arnold will be speaking for us at our upcoming An Introduction to Commercial Real Estate Transactions: The Big Four seminar. This is Kathryn's first year speaking with us, and we can't wait for her presentation!
Kathryn is chair of the firm's Real Estate practice which encompasses more than 65 attorneys across all of Taft's offices and was twice named the "Best of the Best" by Midwest Real Estate News Magazine and is also ranked National Tier 1 in Real Estate Law by U.S. News/Best Lawyers.
Kathryn also heads the firm's Condominium practice group which handles all aspects of condominium law, from development to working with homeowner's associations and de-conversions.
For over 25 years Kathryn has played a key role in shaping the landscape of many of Chicago's most diverse neighborhoods and business communities, through her wide-ranging real estate practice. She focuses in the areas of real estate development, commercial and residential condominium development and conversion, leasing, mixed-use projects, restaurants, mixed-use high-rise development, vertical subdivisions and separations, and commercial financing (lender and borrower representation). In the red-hot Chicago rental market, a recent focus of Kathryn's practice has been condominium de-conversions. She has recently been lead counsel on several large condominium de-conversion projects.
Her experience in real estate matters also includes the negotiation of lease agreements, the acquisition and disposition of commercial properties, and negotiation of financing documentation for financial institutions and businesses, including representation of securitized lenders. She also serves as local counsel for out-of-state attorneys with respect to Illinois law matters.
Kathryn is a regular invited presenter at seminars, addressing industry professionals on topics relating to real estate and condominium development and conversion. Kathryn has also drafted and consulted on new legislation and local ordinances regarding condominium law and administration. Kathryn is active with the Chicago Bar Association and served as Chair of its Condominium Subcommittee from 2002 through 2008. She speaks for the National Business Institute at Condominium Law seminars. Additionally, she is a guest lecturer at Kellogg School of Management and Illinois Institute of Technology. Kathryn has been inducted to the Midwest Real Estate News Commercial Real Estate Hall of Fame in 2017 and 2018.