Immigration: Refugee and Asylum – An Introduction
Audio program! (check our CLE Programs page for live versions)
In 2018 we held our two-day Immigration 101 South Florida Conference and it was a sold out program. The reviews were terrific!
This audio package includes the session on Refugee and Asylum (only). Running 45 minutes long, this is a comprehensive introduction to Refugee and Asylum laws and rules, with advice and strategies also discussed.
Included in this Home Study package is the recording of the program, as well as the handout on this topic.
Refugee and Asylum
Bars to asylum
Eligibility to asylum
Credible Fear v. Reasonable Fear
Hot issues: Particular Social Groups
Withholding (compared to asylum, similar/different)
Convention Against Torture
Other topics covered at the full two-day conference, but not included in this home study package, are listed below. If you are interested in purchasing the entire two-day Immigration 101 South Florida Conference Home Study package, please click here. If you are interested in purchasing any additional individual session topics listed below, click on the session title.
Broad Introduction (CFR and INA) and Road Map and Terms of Art  Road Map
The history and authority to regulate U.S. Immigration Authorities:

USCIS
ICE
CBP
Department of Homeland Security
US Department of Justice – Immigration Court
US Department of State -Embassies
US Department of Labor

Governing Law: The interplay between Immigration laws and policy
Terms of Art
Immigrant vs. Non-Immigrant
Visa vs. Status
Inadmissibility vs. Deportability
Who is considered not legally in the US?
Unlawfully Present, Out of Status or both?
How to Set up and Manage an Immigration Practice
What to do when someone walks in the door
Where to go for more information, what are your resources as a practitioner?
Resources, Books, Forms Programs, etc.
Best practices on handling your immigration cases
Permanent (immigrant) Visas Part I
Family-basedWho May File, and Who May Be Sponsored?
If you are a U.S. citizen, on whose behalf can you can petition?
If you are a U.S. permanent resident, on whose behalf can you can petition?
Temporary Fiancé(e) Visas
The Process for sponsoring eligible family members of U.S. Citizens or Lawful Permanent Residents – the I-130 Petition
Decisions & Appeals
Adjustment of Status (Family)
Consular Processing (Family)
Using the Visa Bulletin
Permanent (immigrant) Visas Part II
Employment-based Visas

EB1
Labor Certification
EB2/NIW
EB3
Religious workers
Quotas and Monthly Visa Bulletin
Adjustment of Status v processing abroad at a US Embassy or Consulate (known as Consular Processing)
Working Visas
Detention

Material misrepresentation
TRIG
False claim to citizenship
Public charge (new standards)
Security grounds
Tourist children going to public school
New definition of certain crimes
Inadmissibility and removability

Material misrepresentation
False claim to citizenship
Public charge (new standards)
Security grounds
New definition of certain crimes
Citizenship
Criteria & eligibility
How to conduct the initial consult with the client who is seeking to naturalize
Was the client "lawfully admitted for permanent residence"
How to properly screen the case before filing and the importance of evaluating the case history
What is the statutory period
General rule on physical presence
General rule on continuous residence
How to establish good moral character
Preparer's signature warnings/Attorney declaration
Supporting documents to submit with the application
The naturalization interview
When is the applicant actually considered a US citizen
Child support
Denaturalization proceedings-there are two major cases that came out on this
Waivers
General waiver for non-immigrants
Immigrant waivers and eligibility
Provisional waivers and criteria
Waivers after prior removal or deportation, permission to reapply for admission to the US
Cancellation of Removal for Permanent Residents and Non-Permanent Residents
212c waivers
Waivers for Asylees
INA 245k certain employment based applicants
237(a)(1)(H) waivers for those who were inadmissible at the time of admission to the US
Hot topics in waivers

Upward tick of allegations of alien smuggling
Drug possession, drug trafficking and/or the dreaded "reason to believe" label
Waiver for entry on a photo switched passport
Matter of Arrabelly case

Stacking Waivers
Immigration Court
Challenges to NTAs
The latest court cases
Attorney General is certifying cases to himself
Castro Tum
Asylum classes-private action v. public action
Gang related asylums
Administrative closure
Pereira
Motions to Reopen, Motions to Terminate, Motions practice
What You Will Learn
Refugee and Asylum
Bars to asylum
Eligibility to asylum
Credible Fear v. Reasonable Fear
Hot issues: Particular Social Groups
Withholding (compared to asylum, similar/different)
Convention Against Torture
Testimonials
Testimonials from the entire two-day conference:
"Great to hear these experts speak. Absolute expert lecturing." – Vincent Miller, Esq.
"I was very satisfied with the program… Very good information and tips!" – Luis Alvan, Esq.
"Very satisfied." – Edward Ramos, Esq.
"Great!" – Laura Fonseca, Esq.
"Very good overview of the entire topic. Given that it was only two days, the speakers did a great job with providing the relevant details."
"The speakers are amazing and the topics are excellent."
"Excellent – great presenters, very knowledgeable."
"Great examples. Straight forward and easy to follow."
"Great seminar!"
These testimonials are from our 2014 – 2017 Immigration 101 programs in Fort Lauderdale and Orlando with many of the same speakers and topics.
"Excellent presentation of topics. Very good overview." – Lisa Thompson, Esq.
"Great overview – learned a lot. Great speakers." – Joshua Aguilar, Esq.
"Amazing!!! It really increased my interest in pursuing more immigration law; Great resources!!!" – Yamilette Rivera, Esq.
"I wanted an entry-level, basic introduction to Immigration Law and that's what I got. I was very impressed by the quality of the presenters. They were all experts in their field and were effective in sharing their wide knowledge base with us." – Laura dePaz Cabrera, Esq.
"Speakers were extremely knowledgeable and willing to answer even the simplest question. Felt as though it was a comprehensive introduction to a complicated subject." – Lauren Bebek, Esq.
"Very informative. I learned a lot!" – Isaura Gomez, Esq.
"Great CLE." – Alex Farris, Esq.
"Great speakers. I received a lot of clarification as a paralegal…Thanks!"  – Shirley M. Quesada Rivera
"Great big-picture overview of practicing Immigration Law."
"Excellent overview." – D. Halper, Esq.
"Absolutely satisfied with the course and the information I received from it." – S. Wilkerson, Esq.
"I haven't felt this excited about practicing law in a while – can't wait to get my feel wet!" – K. Rosenchal, Esq.
"Very informative and useful information." – E. Samet, Esq.
"Very educational and great speakers!" – C. Perez, Esq.
"Great insight."  – E. Rafael Hahn, Esq.
"It was a good intro into immigration." – D. Duckett, Esq.
"Very good and knowledgeable speakers." – B. Mittelberg, Esq.
"Good course. I'm glad I came…" – A. Rivera, Esq.
"Great! All of them explained every single question." – F. Cervantes, Esq.
"This class was simply phenomenal. Thank you!" – Gisela Rodrigues, Esq.
"Great overview of the visas!" – Sherine Makar, Esq.
"I would like to get into immigration law. This seminar was a great introduction."
"I found the seminar very informative." – Pedro A. Lopez, Esq.
"All of the speakers were great, the information was invaluable."
"The speakers and content were great."
"Good material and presenters."
"Great speakers. I wish there was more time."
"Thorough primer on relevant topics in this field."
"Very good overview."
"The panel was very knowledgeable."
"The material given was wonderful."
"Great speaker. Extrememly knowledgeable."
"Fantastic info!"
These testimonials are from our 2016 and 2017 Immigration 101 programs in Los Angeles with similar agendas:
"It was great and I learned a lot. It was an awesome experience, thank you!" Ismael Rosas, Esq.
"As a new attorney to immigration law I was satisfied with the program because it provided a great overview of immigration laws. I chose this particular seminar because of the comprehensive nature of the agenda and I appreciated that so many topics within immigration were covered."
"It was an incredibly helpful overview of immigration! Thank you!" – Yana Loboda, Esq.
"Excellent experience, good job!" – Gulomjon Azimov, Esq.
"Overall I thought that the seminar was helpful and informative." – April Perez, Esq.
"Incredible rooster of speakers." – Serrano Margaret, Esq.
"Green, Damast, and Piibe were fabulous. Lots of energy, extremely knowledgeable, and their material was informative." – David A. Torres, Esq.
"Everything was well explained." – Aaron Caspar, Esq.
"It's a good seminar. Thank you all! Loved Susan, James and Alary!!" – Jenny (Paralegal)
"Excellent staff and fantastic speakers. 5-Star program. Very satisfied with panels, content, and hotel location. [Pincus Staff] were very professional and extremely competent; ALL of the attorney presenters were erudite, highly-experienced, and very interesting – some of the best I've heard. The overall quality of the entire program was excellent."
"Very good speakers, well-organized."
"Great overview. Thanks! I work in a niche area of immigration law and wanted a base for other types of visas. Great seminar."
"I needed a systematic overview of the major immigration case types and got it."
"Truly enjoyed all the speakers and topics."
"Well organized, breaks at perfect times, panel was perfect, great speakers. Well done!"
"It's a good seminar, thank you all!"
"Comprehensive covers all major bases."
"Speakers were very good obviously know their stuff."
"[Speaker] seems extremely up-to-date with current immigration matters."
"[Speaker] She's really organized and explained things well."
Faculty
Diana Albite, Esq.
Partner
Albite Law Group, P.A.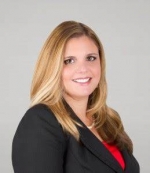 Mrs. Diana Albite is the Founding Partner of Albite Law Group. Mrs. Albite was born in Havana, Cuba and raised in Miami, Florida. After beginning her undergraduate studies at Florida International University on various scholarships, she graduated from North Carolina State University with a B.A. in Political Science. Thereafter, Mrs. Albite attended St. Thomas University School of Law, ultimately earning the degree of Juris Doctor. While at St. Thomas, Mrs. Albite participated in the law school's Immigration Clinic as a Certified Legal Intern. In this capacity, she had the opportunity and privilege of trying several cases before Department of Homeland Security on behalf of underprivileged persons. Also while in law school, Mrs. Albite served as a judicial intern for the Honorable Judge Ellen Leesfield in Florida's Eleventh Judicial Circuit. Mrs. Albite also clerked at Downs, Brill, Whitehead, & Sage, where she gained invaluable research experience in Personal Injury and Maritime and Admiralty Law. While a law student, Mrs. Albite was a member of the Florida Association of Women Lawyers, the Hispanic Association of Law Students, and the Student Animal Defense Legal Fund.
Mrs. Albite's passion for advocating on behalf of her clients led her to creating Albite Law Group, P.A. As a result of that very same passion and tenacity combined with dedication and labor, Mrs. Albite's boutique firm rapidly blossomed, offering personalized service and attention to individuals and corporate clients alike. Mrs. Albite's love for the South Florida community motivates her to dedicate countless hours to assisting to those who cannot afford legal advice.
Mrs. Albite is currently licensed to practice law in the State of Florida, as well as in the U.S. District Court for the Southern District of Florida.
Mrs. Albite has appeared in Almavision radio station broadcasted on 87.7 FM, Univision and Telemundo, and Buenos Días Miami on Mira TV show with renowned presenter Tomas Garcia Fuste. She has been extensively quoted by El Nuevo Herald among other newspapers and media outlets, where she has discussed current immigration issues.
Mrs. Albite appears and presents at Immigration events and maintains the Immigration community informed free of charge.
Mrs. Albite resides in Miami with her husband, three wonderful children and their two mastiff dogs.
---
Andrea Martini, Esq.
Law Office of Andrea Martini, P.A.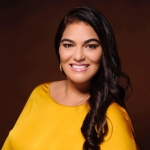 Andrea was born in Baton Rouge, Louisiana to young Venezuelan parents who attended college in the United States and later returned to Venezuela. After living in Venezuela, Andrea and her family returned to South Florida.
Andrea attended Miami Sunset Senior High School and was the recipient of a Florida Bright Futures scholarship based on her academic performance.
Soon after, Andrea enrolled at Florida International University (FIU) in Miami, Florida to study Journalism. After completing her first year at FIU, Andrea excelled academically and was invited to join the university's prestigious Honors College, a rigorous academic program with a special curriculum designed to promote interdisciplinary learning. Through the Honors College, she participated in a study abroad program in Italy to learn about the interrelation between art and literature while also becoming fluent in a third language: Italian. Andrea was also a writer for The Beacon, the university's bi-weekly student newspaper, during most of her tenure at FIU and her articles were regularly featured in various sections including sports, op-ed, news and arts. During the summer of 2002, Andrea had the privilege of being selected to participate in the Congressional Hispanic Caucus Institute's ("CHCI") Summer Internship program and was assigned to the office of Former Chairman of the House Judiciary Committee, Congressman John Conyers. During her internship, Andrea worked on several projects, including the coordination of town hall meetings to promote bilateral discussion of the Israeli-Palestinian conflict, and she conducted research and wrote on the topic of hate crimes.
Upon her return from Washington, D.C., Andrea interned with the office of Senator Bill Nelson in Coral Gables, Florida, where she worked on local constituent issues. Andrea received the FIU Honors College Outstanding Service 2003-2004 Award for her involvement with several community projects and her work with children with disabilities as the President of FIU's Student Council for Exceptional Children. After continuously maintaining a 4.0 grade point average throughout her major studies, the FIU School of Journalism and Mass Communication awarded her as the 2004 Outstanding Journalism Student, and she obtained a paid internship as an assistant producer for Univision's National Newscast and Ultima Hora. In May of 2004, Andrea graduated Magna Cum Laude from FIU with a Bachelor of Science in Communication and a Minor in Criminal Justice.
In the fall of 2004, Andrea began to attend NOVA Southeastern University's Shepard Broad Law Center to pursue a Juris Doctor degree. Based on her academic performance and attainment of Dean's List, Andrea was invited to be a junior member of NOVA's ILSA Journal of International and Comparative Law, and she later became the editor of the 2006-07 bilingual edition. Andrea also served as President of the school's International Law Student Association, and she participated in the University of Miami's study abroad program through which she completed coursework in international and comparative law in Greece and at the University College London. She was awarded a Public Service Fellowship for her work with the Department of Justice, Office of Chief Counsel for Immigration-Related Unfair Employment Practices in Washington, D.C., and graduated in May of 2007. She was admitted to practice in Florida in September of 2007.
After law school, Andrea worked as an associate attorney with the world-renowned immigration law firm of Kurzban, Kurzban, Weinger, Tetzeli & Pratt, P.A. (KKWTP), in Miami, Florida. While a KKWTP, Andrea's practice included family-based immigration, removal defense, asylum and corporate/business immigration, and she worked on a myriad of challenging cases with clients from all over the world. As an associate attorney at KKWTP, Andrea became the firm's Intern Coordinator overseeing and mentoring the work of dozens of law students.
In April of 2012, Andrea decided to establish her own practice, and became the founder and President of Andrea Martini, P.A., in Coral Gables, Florida. Andrea Martini, P.A. exclusively focuses on Immigration and Nationality law and represents clients from all over the United States and around the world. As the daughter of immigrants, Andrea understands the nuisances of our immigration system. Because of this, she strives not only to provide affordable and professional representation, but to also care about her clients and provide excellent customer service. She taught immigration law as an Adjunct Professor at Broward College during the Summer of 2013. Andrea has been featured as a speaker on several immigration-related panels and is the former President of the AILA South Florida Chapter. She served as the former President of the CHCI Alumni Chapter in Miami, Florida.
---
Fees
Audio Recording & Materials Package – CD or Download: $49.00
For CDs please add $8.50 shipping and, in CA, sales tax.
(Audio packages are available approximately two to three weeks after the seminar is held.)
CLE Credit
FL General: This program is approved for 1.0 general CLE units in Florida through April 18, 2020.
FL Immigration and Nationality Law Certification Credits: 1.0 units through April 18, 2020.
CA General: This seminar is approved for .75 units of general CLE in California.
CA General: This seminar is approved for .75 units of Certified Legal Specialist CLE in California.
This program is approved for CLE in the states listed above.  Upon request, Pincus Pro Ed will provide any information an attorney needs to support their application for CLE approval in other states other than what is listed above.
Terms and Policies
Recording policy: No audio or video recording of any program is permitted.
Seminar Cancellations: Should you be unable to attend for any reason, please inform us in writing no later than 14 days prior to the event and a credit voucher will be issued. If you prefer, a refund, less a $50 non-refundable deposit, will be issued. No refunds or credits will be given for cancellations received within 14 days of an event. However, if you notify us within 14 days of an event, and wish to convert your in-person attendance registration to an Audio CD package (with handout), we can do so. A small additional shipping charge, and sales tax in CA, will be incurred. No shipping charge is incurred for downloads. We will also issue a voucher for the amount paid if you notify us within 14 days and prefer not to have the audio recording.
Substitutions may be made at any time.
Webinars, Tele-seminars and Webcast Cancellations: Once log-in codes and passwords are issued for a webinar, tele-seminars or webcasts, a refund is not possible. If for any reason you cannot attend the event after you have received the codes, we will automatically convert your registration to an instant streaming/instant download or CD format and provide you with the information you need to access the recording after the program concludes and the recording is available.  Conversions to CD require a $8.50 shipping fee, and in CA, 9% sales tax.
Downloads/CDs/DVDs – Refund policy:
Downloads are non-returnable/non-refundable once purchased and received. Tapes, CDs and DVDs are returnable for a full refund or replacement if defective, within 90 days of purchase.
Reminder: The room temperature at hotels and other seminar locations are notoriously hard to control. Please bring a sweater or jacket in case it gets cold and/or layer as if you are going to the movies so you are comfortable.