How to Write a Better Appellate Brief (Webinar)
Audio program! (check our CLE Programs page for live versions)
This is a terrific webinar to learn all about how to write a more effective and persuasive appellate brief. You will earn about critical areas of research and conceptualizing your case.
You'll learn about how to organize your brief, and then how to drafts specific sections of the brief and then you will receive tips on how to best edit your brief.
At the conclusion of the webinar, you'll hear a few criticisms from the bench and how to avoid them.
Have you ever though about  improving your public speaking skills? Now is the time! Get Faith Pincus' newly published book Being Heard: Presentation Skills for Attorneys, from the ABA now in paperback and electronic format (ABA members receive 10%-20% off). It is also available on Amazon in Kindle and paperback versions.
What You Will Learn
Precursors to Good Writing: Research
Precursor to Good Writing: Conceptualize the Case
Writing – Step I: Organization

General Comments
The Outline: Statement of Facts
The Outline: Argument

Writing – Step II: Drafting the Brief or Memorandum of Points and Authorities

Specific Sections of the Brief
Some General Comments

Writing – Step III: Editing
Criticisms from the Bench
Faculty
Honey Kessler Amado, Esq.
Certified Specialist: Appellate Law
Law Offices of Honey Kessler Amado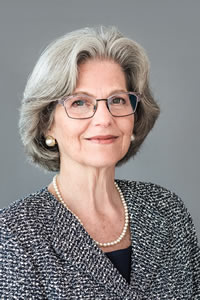 Honey Kessler Amado is a Beverly Hills-based certified appellate law specialist and legal consultant. She has been practicing law since 1977, and has beeen certified as an appellate law specialist, by the State Bar of California, since 1997.
She represents clients in family law appellate cases before the intermediate Courts of Appeal and the California Supreme Court. In cases before the Courts of Appeal and California Supreme Court, she prepares all appellate briefs and pleadings and presents the oral argument. At the conclusion of the appeal, the case returns to trial counsel for any further trial court proceedings.
Although she does not represent clients before the trial-court, Honey Kessler Amado is often part of litigation teams in the trial-court to assist in identifying issues, in creating a sufficient record of appeal, in drafting memoranda on evolving or complex legal issues, or in writing or helping to draft post-judgment pleadings and motions.
She has also written and lectured extensively on issues of concern to family law or appellate law practitioners in general. She have been a Guest Adjunct Professor at the University of Osijek and a Guest Lecturer at California State University Northridge.
She enjoys an AV rating from Martindale-Hubbell and is honored to have been named as a Super Lawyer of Southern California in appellate law each year since 2005.
---
Fees
Webinar Recording & Materials Package – CD or Download: $149
For CDs please add $8.50 shipping and, in CA, sales tax.
CLE Credit
This program is not state specific – it is focused on national law and therefore eligible for CLE in every state. It was pre-approved for CLE in California for 1.5 units of general CLE and 1.5 units of Certified Legal Specialist CLE.
CA Self Study (only) Certified Legal Specialist:  This program is approved for 1.5 units of Certified Legal Specialist CLE in California (Expires 4/07/2024)
CA Participatory Certified Legal Specialist:  This program is approved for 1.5 units of Certified Legal Specialist CLE in California until it (Expires 4/07/2021)
Self-Study CLE certificates are already included in your recorded package, in the "Materials" Folder. 
Upon request, Pincus Pro Ed will provide any information an attorney needs to support their application for CLE approval in other states.
Terms and Policies
Recording policy: No audio or video recording of any program is permitted.
Seminar Cancellations: Should you be unable to attend for any reason, please inform us in writing no later than 14 days prior to the event and a credit voucher will be issued. If you prefer, a refund, less a $50 non-refundable deposit, will be issued. No refunds or credits will be given for cancellations received within 14 days of an event. However, if you notify us within 14 days of an event, and wish to convert your in-person attendance registration to an Audio CD package (with handout), we can do so. A small additional shipping charge, and sales tax in CA, will be incurred. No shipping charge is incurred for downloads. We will also issue a voucher for the amount paid if you notify us within 14 days and prefer not to have the audio recording.
Substitutions may be made at any time.
Webinars, Tele-seminars and Webcast Cancellations: Once log-in codes and passwords are issued for a webinar, tele-seminars or webcasts, a refund is not possible. If for any reason you cannot attend the event after you have received the codes, we will automatically convert your registration to an instant streaming/instant download or CD format and provide you with the information you need to access the recording after the program concludes and the recording is available.  Conversions to CD require a $8.50 shipping fee, and in CA, 9% sales tax.
Downloads/CDs/DVDs – Refund policy:
Downloads are non-returnable/non-refundable once purchased and received. Tapes, CDs and DVDs are returnable for a full refund or replacement if defective, within 90 days of purchase.
Reminder: The room temperature at hotels and other seminar locations are notoriously hard to control. Please bring a sweater or jacket in case it gets cold and/or layer as if you are going to the movies so you are comfortable.