Finz Case Law Monthly Updates on Torts and Employment Law (CA)
Audio program! (check our CLE Programs page for live versions)
*** On sale now!  A full year's subscription for only $229 – CD or download/streaming  ***  (Normally $479 per year)
With Finz Case Law Updates, you stay current on the latest published appellate opinions in California (and Federal cases) covering Torts and Employment law – once a month all year long.
Started in 1992, Finz is one of the most respected monthly audio case summary services in operation in California.
Finz Case Law Updates captures the most important recently published appellate cases from the prior month and reviews, analyzes and summarizes them in an audio format, which is provided to you in CD or download/streaming format.
The analysis always includes a discussion about how the newly published case impacts existing case law and statues and the potential impact on your practice and clients as well.
In only one hour per month, Finz gives you what you need to argue and settle your cases with the most current case law in California. You stay ahead of the game, ahead of opposing counsel, and Finz makes sure you are not surprised by the other side.
As an added benefit, you can also claim one California CLE credit per issue (live or self-study), so that's 12 CLE units per year for only $479 per year! Now on sale for only $229 for your first year's subscription).  And for those of you that are Certified Specialists in Appellate Law, Finz is approved for California Certified Specialist CLE in Appellate Law as well.
What's more, Finz subscribers receive a 10% discount on all Pincus Professional Education seminars (which pays for Finz entirely pretty quickly when you purchase Pincus programs).
Finz is available as a monthly download or CD. 

*** On sale now!  A full year's subscription for only $229 – CD or download/streaming   ***  (Normally $479 per year)
What You Will Learn
Our monthly case law updates cover the prior month's most important published cases related to Torts and Employment law.
Each issue includes a printed case list, with citations to the cases discussed, as well as citations to any prior case law or statutes discussed in the analysis.
Testimonials
I was an early subscriber to the "Finz Advance Tapes," I continued that subscription after appointment to the bench in 1993 but was concerned about "loss of quality" when Steve Finz died some years ago.  That concern was, in retrospect, terribly misplaced.
Faith Pincus has carried on the Finz tradition admirably.  Professor Pat Cain, the current "voice" of the monthly CDs case summaries, is knowledgeable, insightful and easy to listen to.  I have found her analyses and insights very valuable.
As well, it's the easiest and least expensive 12 hours of MCLE per year, out there!
Hon. David W. Long
Judge of the Superior Court (Ret.)
Faculty
Professor Patricia Cain
Inez Mabie Distinguished Professor of Law
Santa Clara Law

Professor Patricia Cain is the Inez Mabie Distinguished Professor of Law at Santa Clara Law. Before joining the SCU faculty in 2007, she served as Vice Provost and Aliber Family Chair in Law at the University of Iowa. She was a member of the faculty at the University of Texas for 17 years before moving to the University of Iowa College of Law in 1991. She also held the H.O. Head Centennial Professor in Real Property Law at the University of Texas (1990-91). A member of the American Law Institute, and a fellow of the American College of Trusts and Estates Counsel, she has also served on the board of Lambda Legal Defense and Education Fund and is a past president of the Society of American Law Teachers (SALT). She is currently serving as Treasurer of SALT. She is a frequent lecturer for Continuing Legal Education on topics ranging from taxation to torts. She has published more than 50 law review articles as well as several book chapters, treatises, and books including Rainbow Rights: The Role of Lawyers and Co urts In the Lesbian and Gay Civil Rights Movement (Westview Press 2000); and Sexuality Law, 2nd Edition (with Arthur S. Leonard) (Carolina Academic Press 2009). She is currently working on a torts casebook with co-author, Jean C. Love, Sutro Professor of Law, Santa Clara University. Professor Cain received her A.B. degree from Vassar College and her J.D. degree from the University of Georgia.
---
Fees
*** On sale now!  A full year's subscription for only $229 – CD or download/streaming   ***  (Normally $479 per year)
12 month subscription, issued once per month:
CD format:  $479 plus CA sales tax and a one-time shipping charge of $7.50
Download format: $479
*** On sale now!  A full year's subscription for only $229 – CD or download/streaming   ***  (Normally $479 per year)
Added subscriber bonus: Annual subscribers have online access to all prior monthly issues beginning with 2010.
CLE Credit
CA: Every monthly issue of Finz qualifies for:
1) one self-study unit of General CLE credit in California, and
2) one self-study unit of California Certified Legal Specialist Credit in Appellate Law
Total available self-study credit per year is 12 units.
Participatory credit is available if you submit the verification codes given in each issue.
Terms and Policies
Downloads/CDs/DVDs – Refund policy:
Downloads are non-returnable/non-refundable once purchased and received. Tapes, CDs and DVDs are returnable for a full refund or replacement if defective, within 90 days of purchase.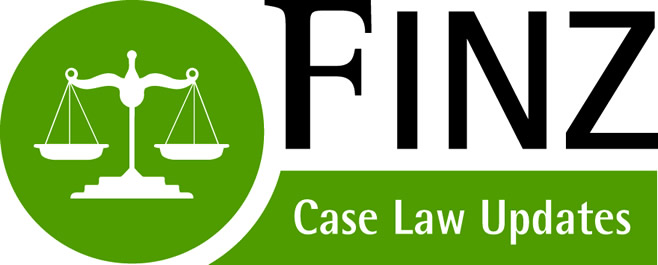 Please choose:
OR
An audio package of this seminar is not yet available.
Monthly Subscription – CA case law updates on Torts and Employment Law