Expert Witnesses: Select, Prep, Exam and Disasters (IL)
Audio program! (check our CLE Programs page for live versions)
Designed for attorneys and anyone else involved with Expert Witnesses, this program is a must!
You will learn how to select effective Expert Witnesses and how to avoid the time bombs. Faculty will discuss how to move to disqualify your adversary's expert, how to prepare effective Expert Witness reports and exhibits and how to prepare yourself for deposing the other side's Expert Witnesses.
You'll then get sound advice and strategies about how to prepare your Expert Witness for deposition, what to do when your Expert Witness does poorly in the depo or on the stand and how to handle your direct examination of your own Expert Witness.
Next you'll learn how to prepare for, outline and carry out the cross examination.
This is a very thorough course with your faculty discussing most everything to do with Expert Witnesses before trial and during trial, including tips from the bench.
This program was recorded in 2013 and the advice is timeless!
Do you want to improve your public speaking skills? Get Faith Pincus' newly published book Being Heard: Presentation Skills for Attorneys, from the ABA now (ABA members receive 10% off). It is also available on Amazon in Kindle and paperback versions.
What You Will Learn
How to select effective Expert Witnesses and avoid the time bombs
Preparing effective Expert Witness reports and exhibits
Preparing the Expert Witness for deposition
Moving to disqualify your adversary's expert
Preparing yourself for deposing the other side's Expert Witnesses
What to do when your Expert Witness does a bad job
Direct examination of your own Expert Witness
Preparing for the cross

Research opinions in other cases, literature, learned treatises, etc.
Organizing impeachment material – e.g., depos, reports, literature, etc.
Preparing a notebook for the witness stand

Outlining the cross

Identifying the points to be scored
Formulating a strategy
Bite sized segments
Ordering the points you want to score
Scoring points through the other side's expert

Carrying out the cross

How to do it? How to impeach?  When to impeach?
Controlling the expert who is really an advocate
Timing segments to end with breaks, etc.
Dealing with surprises
Mock Cross Exam
Testimonials
The following testimonials are from our Los Angeles program which took place on May 23:
"Great presentation." James Lemieux, Esq.
"Very clear presentation; good explanation of reasons behind deposition strategies."
"Very helpful to trial work and to testifying as an expert witness." Richard B. Macgurn, Esq.
"The speakers were excellent and compelling."
"Great job and great examples." James Lemieux, Esq.
"Terrific – very helpful and knowledgeable" Paul Carreras, Esq.
"Practical approach and good examples." James Lemieux, Esq.
"Good grasp of federal and state litigation rules."
"Very good tips and helpful examples from real life."
"Very helpful comments and insight into judcicial mindset."
"The core principals were applicable and well presented."
"Very thorough." Richard B. Macgurn, Esq.
The following testimonials are from past Chicago programs:
"One of the best seminars I have attended."
"Engaging and informative – well done."  Marc Srodulski, Esq.
"Excellent panel!"  Michael Hannigan, Esq.
"Very well prepared and very knowledgable."  Shawn A. Warner, Esq.
"Very clear & focused presentation."
"Excellent discussion of federal & state law rules."
"One of few times a seminar has lived up to [its] sales pitch."
"Very prepared.  Great suggestions.  Excellent materials."  David Olmstead, Esq.
"This was a good review/survey of how to handle expert witnesses."
"Federal practice perspective was most relevant to my practice."
"Very thorough and insightful."
"Straight forward.  Good use of handouts."
"Clear, concise and effective."
"Well done."
"Appreciated the thorough written materials.  Very helpful."
Faculty
Suyash Agrawal, Esq.
Partner
Massey & Gail LLP

Suyash Agrawal has nearly 15 years of experience handling high-stakes trial and appellate litigation.
Before joining the firm, Suyash founded and managed Agrawal Evans LLP, a commercial litigation boutique in Chicago. Before that, he was an equity partner at Susman Godfrey LLP, where he practiced for nearly a decade. A stand-up trial lawyer, Suyash has represented plaintiffs and defendants in jurisdictions around the country. He has recovered more than 0 million for plaintiffs and successfully defended claims seeking over 0 million.
Suyash handles all aspects of complex civil litigation—from pre-suit investigation and discovery through dispositive motion practice and trial. He deals with post-trial proceedings as well as appeals. Suyash's experience has extraordinary breadth. He has worked on cases involving myriad areas of law including: accounting malpractice, antitrust, art law, bankruptcy, breach of contract, business torts, class actions, deceptive trade practices, defamation, the Digital Millennium Copyright Act, energy, false advertising, FCC law, fiduciary duties, fraud, fraudulent transfers, HUD regulations, Indian gaming and casino law, insurance coverage, the Lanham Act, maritime law, mergers and acquisitions, oil and gas law, patent infringement, real property transactions, shareholder oppression, trade secret misappropriation, and unfair competition.
Not only was Suyash elected to equity partnership at Susman Godfrey after just five years of practice, but he's earned the respect of those he represents as well as his adversaries in the courtroom. Clients describe him as a "rare kind of lawyer" and "a passionate advocate" who is "critical to crafting and brilliant in executing" legal strategy. Former opposing trial counsel have called him "tough," "highly capable," "prepared and persuasive."
Suyash graduated magna cum laude from Bucknell University, and received his law degree with Honors from The University of Chicago Law School. He was a member of The University of Chicago Law Review and a winner of the Thomas R. Mulroy Award for Excellence in Appellate Advocacy. After law school, Suyash clerked for the Honorable Jacques L. Wiener, Jr., on the U.S. Court of Appeals for the Fifth Circuit.
---
David L. DeBruin, Esq.
Managing Partner
Jenner & Block LLP

Dave De Bruin is a creative and seasoned first-chair patent trial and appellate lawyer. Chambers USA: America's Leading Lawyers for Business has characterized Dave as an "impressive litigator," citing sources stating he possesses "an extremely acute legal mind" and noting his "ability to think his way around any issue." While Dave is well-equipped to argue legal issues and to explain complex technology to lay judges and juries, he understands that at trial, the human story behind the dispute must be told. He also understands that litigation may not always be the best approach to achieve a client's goals.
Dave has successfully tried patent cases in a variety of venues. In 2009, he obtained a liability jury verdict in the Central District of California on a patent covering 3D computer modeling in orthodontics, leading to a recovery publicly valued in excess of M. Dave has first-chaired jury trials in the rocket docket of the Western District of Wisconsin and, in a last minute substitution of lead trial counsel, obtained a willful infringement finding against Walmart in the District of Colorado. The technology in Dave's cases have ranged from mechanical and electrical devices to biological and chemical patents.
Although he is admitted to the U.S. Patent and Trademark Office and has a physics degree from M.I.T., Dave's judgment as a litigator is informed by the substantial non-patent business litigation he lead during the first decade and a half of his career, which included securities fraud, RICO, insolvency and telecommunications fraud, and first-chairing a five-week long accountant liability trial that remains a leading accountant liability and attorney misconduct case in Wisconsin.
Dave has successfully argued numerous patent cases before the Federal Circuit Court of Appeals and prepared an amicus brief whose arguments were noted in a recent en banc ruling. He also has served as an arbitrator deciding securities claims and IP insurance coverage issues and submitted testimony as a Markman expert. Dave also authors patent opinions and provides IP counseling.
Before entering private practice, Mr. De Bruin clerked for the late Chief Judge John W. Reynolds, U.S. District Court, Eastern District of Wisconsin.
Mr. De Bruin is acknowledged in The Best Lawers in America for intellectual property litigation, Who's Who in America, Who's Who in American Law and Chambers USA: America's Leading Lawyers for Business. He also was recognized as an "Illinois Super Lawyer" and a "Wisconsin Super Lawyer" by Super Lawyers Magazine in the area of Intellectual Property Litigation and was on the Leading Lawyers 2012 list published by Milwaukee's M Magazine. He was also named one of Chicago's Top Rated Lawyers by The Chicago Tribune and The Wall Street Journal.
---
Jeannie Y. Evans, Esq.
Partner and Co-Founder
Agrawal Evans LLP

After graduating with honors from Harvard Law School in 1997, Jeannie litigated at two of the country's premier national law firms — Kirkland & Ellis in Chicago, and Wilson Sonsini Goodrich & Rosati in Palo Alto. She represented leading U.S. corporations and professional firms, as well as their officers, directors, and partners, in high-stakes business disputes. In January 2013, Jeannie left Kirkland & Ellis to launch the trial and appellate boutique firm, Agrawal Evans LLP. She brings her broad experience litigating complex commercial cases in a variety of practice areas, including accounting fraud, antitrust, securities and shareholder suits, fraud, breach of contract, government investigations, bankruptcy, trade secret, non-compete, and patent litigation.
Jeannie has successfully represented clients in multi-million and multi-billion dollar disputes in state and federal courts around the country. Her experience includes all aspects of pretrial and trial practice, including fact and expert discovery, managing complex document productions, dispositive motion practice, and expedited injunction proceedings. She also has handled several appeals. In particular, Jeannie has achieved considerable success obtaining pretrial dismissal of massive cases against her clients, often before the onset of any significant discovery costs.
Jeannie served as a law clerk for the Honorable Alex Kozinski on the U.S. Court of Appeals for the Ninth Circuit and for the Honorable Susan Illston on the U.S. District Court for the Northern District of California, filling temporary absences. Before law school, Jeannie attended Brigham Young University on an Ezra Taft Benson full-tuition scholarship and graduated summa cum laude. Jeannie is active in community service on the south side of Chicago and represents pro bono clients in a variety of matters.
Jeannie is admitted to practice in Illinois and California.
---
Aron J. Frakes, Esq.
Officer
Fredrikson & Byron, P.A.

Aron represents clients in a wide variety of disputes, including large contract disputes, product liability defense, class action defense, fraud and conspiracy cases, consumer fraud actions, construction litigation, professional malpractice defense (engineering), and toxic tort mass actions.
Aron's practice focuses on complex civil litigation. He has represented clients in virtually all facets of litigation and alternative dispute resolution, including before arbitration tribunals, state and federal trial courts throughout the U.S., and various appellate courts. He also routinely assists clients with mediating or negotiating resolution of their disputes either before or after litigation is filed.
Aron has substantial experience in defending against putative nationwide class actions. He also has defended against complex product liability cases alleging that medical devices were defective, including negligence, strict liability, and wrongful death claims. Aron's broad civil litigation experience includes prosecuting large fraud and civil conspiracy claims on behalf of businesses and individuals, post-closing indemnity disputes following the sales of businesses, cases seeking to invalidate non-competition provisions in contracts, asbestos cases against a leading engineering firm, and cases involving many other subject matters and industries.
Aron also devotes a significant portion of his time to pro bono representation. For instance, he has achieved successful results for a young mother wrongfully accused of child neglect, a woman with HIV and AIDS whose civil rights were violated, and a high school student with a learning disability. Aron and his colleagues were specially recognized by the Family Defense Center for their work on behalf of the young mother, which included a successful appeal to the Illinois Appellate Court.
Aron is an officer in Fredrikson & Byron's Litigation Group. Prior to joining the firm, he was a partner with McDermott Will & Emery, an AmLaw 50 law firm, in Chicago. Aron is licensed to practice in Illinois; Minnesota license is pending.
---
Jenny S. Kim, Esq.
Senior Counsel
Accenture
Jenny S. Kim has experience in a broad range of complex litigation matters, including contract disputes, common law and consumer fraud claims, insurance coverage, professional liability defense, breach of warranty defense and class action litigation.
Jenny has managed all aspects of such litigation matters, including evaluating and investigating cases, determining case strategy, operating as a primary contact for clients, drafting and responding to written discovery, taking and defending depositions, drafting and arguing substantive motions, drafting appellate briefs, negotiating settlements and representing clients in mediations and arbitrations.
While in law school, Jenny was a member of the Elder Law Journal, as well as a teaching assistant for "Torts" and "Employment Discrimination."
---
Richard I. Levin, Esq.
Partner
Levin, Riback & Adelman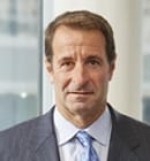 Rick Levin is a powerhouse in the Chicago legal community. He is well known for his exceptional command and keen sense of the courtroom. Throughout his career he has successfully recovered over 25 multi-million verdicts and settlements on behalf of his clients in the areas of medical malpractice, priest abuse, construction, negligence, wrongful death.
His achievements for his clients are no accident. Rick is passionate about his clients. He has a deep empathy for what they are going through. He has the ability to translate their emotions and relay their experience in a way that resonates in the courtroom.
Rick believes the best kind of professional is one with a good ear who will listen to you when things are at their worst. Rick's clients know they have an attorney who is personally connected to and cares about them. Rick makes himself available to his clients, day or night. Medical conditions don't just come up between nine and five. When an issue comes up, Rick's clients trust that he will be there.
His clients never have to wonder where their cases are at. Rick believes in strong communication. He stays in constant communication with his clients, keeping them informed throughout the process.
Rick is an adjunct professor of law in trial advocacy at Northwestern University with his partner, Adam Riback. He is proud to serve as the Chair in Trial Advocacy. Coaching students from a positive standpoint and building on their strengths, he has coached the mock trial team to two national championships. In the role of coach, Rick and Adam select 8 of Northwestern University law school's finest law students and coach and mentor them to become seasoned litigators. Some of these students have gone on to legal positions as law clerks in the federal court of appeals, the U.S. Attorneys' Office, and the Hague.
He takes pride in helping to develop the lawyers of tomorrow. He is held in high regard by his students. He has been voted "Most Outstanding Adjunct Professor" for six years. A Northwestern graduate who Rick taught noted, "I just want you to know what a pleasure it was for me to take your course. I want you to know what a pleasure it will be for me in 30 years to tell people that Rick Levin trained me. Thanks for your guidance and your support."
Mr. Levin is also an instructor for the National Institute for Trial Advocacy. In that role, Rick teaches trial skills and depositions skills to attorneys. He has taught NITA courses at Northwestern University School of Law, Loyola University School of Law, Indiana University School of Law, Rutgers Law School and the University of Colorado at Boulder. Rick was the Co-Chairman of the Trial Techniques Division of the Chicago Bar Association's Young Lawyers Section from 1995 to 1998. In this position, Rick moderated and spoke at many seminars to lawyers on the topics of Motion Practice, Tort Reform, Deposition Strategy, Evidence Trial Techniques and Strategy and Expert Witnesses.
Rick has lectured to physicians and other attorneys on the subject of brain injuries in litigation. He has lectured to physicians at the American Board of Quality Assurance and Peer Review of Physicians on the topic of Medical Malpractice litigation. He has lectured extensively at the Chicago Bar Association on the topic of tort litigation. He has lectured at Illinois State University on the topic of Police Pursuits and Civil liability.
---
Eric A. Sacks, Esq.
Assistant State's Attorney
Office of the Cook County State's Attorney
Eric A. Sacks is an Assistant State's Attorney in the Felony Trial Division of the Office of the Cook County State's Attorney. Mr. Sacks graduated from Carleton College in 1989 and Harvard Law School in 1992. He served as a law clerk to the Honorable John A. Nordberg of the United States District Court for the Northern District of Illinois from 1992 to 1994. In 1994, Mr. Sacks joined the law firm of Jenner & Block LLP, becoming a partner in 2000, and working at that law firm until August of 2014, when he became an Assistant State's Attorney.
He has written and spoken on a variety of topics, including in the fields of antitrust, information technology, and trial advocacy. He also has served as a guest faculty member teaching trial advocacy at the University of Notre Dame Law School and for the National Institute for Trial Advocacy. Mr. Sacks also has served as a board member for several not-for-profit organizations. That service includes service on the Leadership Advisory Board for Leadership Greater Chicago; the Regional Board of the Anti-Defamation League, Greater Chicago/Upper Midwest Region; the Board of the Jewish Council on Urban Affairs; the Board of the Public Interest Law Initiative; and the Advisory Board of the Chicago Chapter of Back On My Feet.
---
Fees
Audio Course and Materials Package – CD or Download: $425
CD: plus $8.50 shipping and, in CA, sales tax.
CLE Credit
IL General: This program is no longer approved for CLE credit in Illinois. We are happy to assist you in applying for individual credit.
CA General: This program is approved for 6.0 general CLE units in California, including 0.5 hours of ethics credit.
This program is approved for CLE in the states listed above.  Upon request, Pincus Pro Ed will provide any information an attorney needs to support their application for CLE approval in other states other than what is listed above.
Terms and Policies
Recording policy: No audio or video recording of any program is permitted.
Seminar Cancellations: Should you be unable to attend for any reason, please inform us in writing no later than 14 days prior to the event and a credit voucher will be issued. If you prefer, a refund, less a $50 non-refundable deposit, will be issued. No refunds or credits will be given for cancellations received within 14 days of an event. However, if you notify us within 14 days of an event, and wish to convert your in-person attendance registration to an Audio CD package (with handout), we can do so. A small additional shipping charge, and sales tax in CA, will be incurred. No shipping charge is incurred for downloads. We will also issue a voucher for the amount paid if you notify us within 14 days and prefer not to have the audio recording.
Substitutions may be made at any time.
Webinars, Tele-seminars and Webcast Cancellations: Once log-in codes and passwords are issued for a webinar, tele-seminars or webcasts, a refund is not possible. If for any reason you cannot attend the event after you have received the codes, we will automatically convert your registration to an instant streaming/instant download or CD format and provide you with the information you need to access the recording after the program concludes and the recording is available.  Conversions to CD require a $8.50 shipping fee, and in CA, 9% sales tax.
Downloads/CDs/DVDs – Refund policy:
Downloads are non-returnable/non-refundable once purchased and received. Tapes, CDs and DVDs are returnable for a full refund or replacement if defective, within 90 days of purchase.