Criminal Writs Boot Camp (CA)
Audio program! (check our CLE Programs page for live versions)
Criminal Writs are tricky and complicated.  This program focuses on the basics of dealing with a criminal writ, what factors you should consider when filing one, how to prepare an adequate record, and the mechanics of drafting and filing a writ petition.  The faculty will also walk you through what happens at the Court of Appeal once you've filed your writ petition.
This program has expert practitioners and career attorneys from the Court of Appeal who handle writs every day.  You are guaranteed to learn from those who know how to do it right and what mistakes not to make.
This program was recorded in 2014.
For other appellate programs, you might want to check out the following:
Our 1st Annual Advanced Appellate Conference (2016) audio recording can be purchased here.
Our 2nd Annual Advanced Appellate Conference (2017) audio recording can be purchased here.
Our 3rd Annual Advanced Appellate Conference (2018) audio recording can be purchased here.
Our 4th Annual Advanced Appellate Conference (2019) audio recording can be purchased here.
You might also like to learn about Administrative Writs of Appeal, which are not covered in the programs above.
Do you want to improve your public speaking skills? Get Faith Pincus' newly published book Being Heard: Presentation Skills for Attorneys, from the ABA now (ABA members receive 10% off). It is also available on Amazon in Kindle and paperback versions.
What You Will Learn
Why writs are "extraordinary"– the differences between writs and appeals
When you should consider filing a writ petition

what factors and circumstances improve your possibility of success
what statutes provide for writ review
what cases provide for writ review
what cases prohibit writ review

Distinctions between discretionary petitions and petitions which serve in lieu of an appeal
How to prepare an adequate record for filing a writ petition
The mechanics of drafting and filing a writ petition
You filed your petition, now what happens to it?

How petitions are processed in the Courts of Appeal

The different types of orders the court uses to resolve petitions, and what they mean
Tales from the trenches:

what worked and didn't work as told by criminal trial attorneys

An overview of pre and post conviction uses of habeas corpus
Testimonials
"Excellent materials and excellent class. All of the speakers were very knowledgeable and I was tremendously impressed." – Daniel G. DeGriselles, Esq.
"Totally Satisfied." – Randy Wadisay, Esq.
"I have utilized all of the service providers that I noted in the survey and truly felt I received great service from each.  My favorite continuing legal education seminar provider, Pincus Professional Education is particularly noteworthy though.  I have attended about five Pincus seminars.  Each was phenomenally packed with useful content and had presenters/speakers of the highest skill level.  I would unhesitatingly recommend Pincus to other lawyers and am already planning my next couple of seminars with this CLE provider."  – Quote from The Recorder's 'Best of CA 2013′ survey.
Faculty
Randee J. Barak, Esq.
Lead Appellate Attorney
California Court of Appeal, Second Appellate District, Division Seven

Randee Barak has been a Senior Appellate Attorney at the California Court of Appeal, Second Appellate District since 1999. Prior to coming to the Court of Appeal, Ms. Barak specialized in business and health care litigation for Sidley Austin, working in both its Litigation and Appellate Practice groups. Ms. Barak graduated with honors from UCLA School of Law in 1992 and, following graduation, served as law clerk to the Honorable Judge Arthur Alarcon on the United States Court of Appeals for the Ninth Circuit. A member of the Los Angeles County Bar Appellate Courts Committee, she is the co-chair of the "Appellate Court Experience program (ACE)," a program developed in conjunction with the Constitutional Rights Foundation to educate Los Angeles County area high school students about the appellate court system. In 2008 the Constitutional Rights Foundation honored Ms. Barak as "Lawyer of the Year for the Public Sector." She is the author of several articles on litigation and appellate practice.
---
Pablo Drobny, Esq.
Counsel
California Appellate Law Group LLP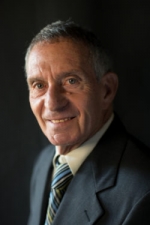 Pablo Drobny served as a lead appellate research and writs attorney in Division Seven of the California Court of Appeal's Second District for more than 36 years. In that position, Pablo analyzed thousands of appeals and writ petitions, in every conceivable area of law and at every stage of civil and criminal litigation, and played a pivotal role in the development of writ practice in the California courts.
Alone responsible for handling all writ petitions assigned to Division Seven, Pablo gained a deep understanding of extraordinary writ relief and innovated creative procedural devices to streamline writ procedures in California appellate courts. One of those devices is now commonly known as the "suggestive Palma" practice, which was approved by the California Supreme Court and is currently utilized statewide as a method of granting expeditious writ relief to litigants. Additionally, Pablo routinely advised justices about complex appellate motions and orders, including motions to dismiss appeals, view sealed transcripts, take judicial notice, augment the appellate record, and file amicus briefs.
During his court career, Pablo was also heavily involved in judicial education. He served on dozens of planning committees for the courts' annual Judicial Attorney Institutes, chaired the statewide Appellate Judicial Attorneys Education Committee, developed broadcasts for judicial attorneys and non-attorney staff with the Center for Judiciary Education and Research, and regularly gave educational presentations to Supreme Court and Court of Appeal justices and their staff. He developed relationships with appellate justices throughout the state and taught the approaches many still use to decide cases.
Pablo is a frequent lecturer and panelist on the writ process and on other facets of civil and criminal appellate law and procedure. His presentations include programs at annual meetings of the California State Bar, the California Judges Association, the California Public Defenders Association, the Lawyers' Club of Los Angeles, The Rutter Group, Pincus Professional Education, and other bar associations and Inns of Court statewide. He has been guest lecturer at Loyola Law School and annual lecturer for the law school extern program at the Second District.
Pablo received his J.D. with honors from Harvard Law School, and before commencing his career at the Court of Appeal, practiced with Perkins Coie LLP and as corporate counsel for U.S. companies doing business in developing countries. He earned his B.A. with highest honors from Johns Hopkins University, where he captained the soccer team, was selected as an All-American, and was later admitted to the Johns Hopkins Athletic Hall of Fame. He also received an NCAA postgraduate scholarship, awarded to just 22 scholar-athletes nationwide.
---
Dennis A. Fischer, Esq.
State Bar of California Board of Legal Specialization Certified Appellate Law Specialist
Law Offices of Dennis A. Fischer, APC
Dennis A. Fischer is a Member and Past President (1993-1994) of the California Academy of Appellate Lawyers. For the past 40 years, he has focused exclusively on appellate practice and prefers criminal law. He has filed approximately 1,000 appeals with just short of 100 published decisions, including 24 of his own cases argued before the California Supreme Court and many others as amicus curiae, and one case argued before the United States Supreme Court.
More of Mr. Fischer's Honors and Recognitions include the following: Fellow of the American Academy of Appellate Lawyers since 1998. Currently (2012-2014) and past (1997-2000) member of Appellate Law Advisory Commission of the California Board of Legal Specialization. Recently served on the California Judicial Council's Appellate Advisory Committee. Previously appointed by Chief Justice George to the California Supreme Court's Advisory Committee on Rules for Publication (2005-2006), and the Judicial Council's Appellate Process Task Force (1997-2000) and Ad Hoc Task Force on Superior Court Appellate Divisions (1999-2001). Appointed by California Supreme Court Chief Justice Lucas to chair curriculum committee in planning, development and production of a videotape training program for appointed counsel on capital case appeals (1994-1995). Certified as specialist in appellate law by California State Bar Board of Legal Specialization. Listed annually in Southern California Superlawyers, top 100 Lawyers in Southern California 2004, and Best Lawyers in America.
Mr. Fischer's publications include Appeals and Writs in Criminal Cases (C.E.B. 2d ed. 2000) – Criminal Appeals in California State Courts; auther of chapters One and Two of original 1982 edition.
---
Garrett J. Zelen, Esq.
State Bar of California Board of Legal Specialization Certified Criminal Law Specialist

Garrett Zelen is a State Bar of California Board of Legal Specialization Certified Criminal Law Specialist.
After clerking for the Federal Public Defender, a Federal Indigent Panel Attorney, and the firm of Talcott and Lightfoot, Garrett joined the Los Angeles County Public Defender's Office. In 1980, Garrett opened his own criminal defense firm, practicing in both State and Federal Courts throughout the country. His clients include corporate officers, sports figures, entertainment and media figures, investment fund managers, developers, health care professionals, doctors, attorneys, and, those wrongly convicted.
He has served as the President of the Beverly Hills Bar Association Criminal Law Section, and as a Board Member of the Los Angeles Criminal Courts Bar Association.
Garrett graduated from the University of California at Santa Cruz, and Loyola University Law School in Los Angeles.
---
Fees
CD INVENTORY CLOSE OUT SALE! 
SELECT CDS REDUCED – 60-94% OFF* 
Audio Course and Materials Package – Download: $295
Audio Course and Materials Package – CD: $295 $25
CDs: plus $8.50 shipping and, in CA, sales tax.
*New orders only, while supplies last.
CLE Credit
CA General:  This program is approved for 3.75 units of general CLE in California.
CA Certified Legal Specialist:  This program is approved for 3.75 units of Certified Legal Specialist CLE in California as follows:
3.75 hours of Certified Legal Specialist CLE in Appellate Law
3.75 hours of Certified Legal Specialist CLE in Criminal Law in California.  This includes 3.75 hours Subfield D (Writs, Appeals & Ancillary Proceedings).
This program is approved for CLE in the states listed above.  Upon request, Pincus Pro Ed will provide any information an attorney needs to support their application for CLE approval in other states other than what is listed above.
Terms and Policies
Recording policy: No audio or video recording of any program is permitted.
Seminar Cancellations: Should you be unable to attend for any reason, please inform us in writing no later than 14 days prior to the event and a credit voucher will be issued. If you prefer, a refund, less a $50 non-refundable deposit, will be issued. No refunds or credits will be given for cancellations received within 14 days of an event. However, if you notify us within 14 days of an event, and wish to convert your in-person attendance registration to an Audio CD package (with handout), we can do so. A small additional shipping charge, and sales tax in CA, will be incurred. No shipping charge is incurred for downloads. We will also issue a voucher for the amount paid if you notify us within 14 days and prefer not to have the audio recording.
Substitutions may be made at any time.
Webinars, Tele-seminars and Webcast Cancellations: Once log-in codes and passwords are issued for a webinar, tele-seminars or webcasts, a refund is not possible. If for any reason you cannot attend the event after you have received the codes, we will automatically convert your registration to an instant streaming/instant download or CD format and provide you with the information you need to access the recording after the program concludes and the recording is available.  Conversions to CD require a $8.50 shipping fee, and in CA, 9% sales tax.
Downloads/CDs/DVDs – Refund policy:
Downloads are non-returnable/non-refundable once purchased and received. Tapes, CDs and DVDs are returnable for a full refund or replacement if defective, within 90 days of purchase.
Reminder: The room temperature at hotels and other seminar locations are notoriously hard to control. Please bring a sweater or jacket in case it gets cold and/or layer as if you are going to the movies so you are comfortable.