Criminal Defense Boot Camp for Civil Lawyers and Newer Criminal Lawyers (FL)
Audio program! (check our CLE Programs page for live versions)
The accusation of a crime can threaten the employment, reputation and well-being of your clients and there's a lot you need to know to make sure their rights are protected.
Whether you are a civil attorney that needs to know what to do when your client is accused of a crime or a newer criminal defense attorney, this program will provide you with a broad understanding of how to help your clients.
This comprehensive seminar, presented by two judges, and seasoned defense and prosecution attorneys, will help you navigate the complicated and sensitive issues you face handling a criminal case.
This program was recorded in 2015.
Do you want to improve your public speaking skills? Get Faith Pincus' newly published book Being Heard: Presentation Skills for Attorneys, from the ABA now (ABA members receive 10% off). It is also available on Amazon in Kindle and paperback versions.
What You Will Learn
What to do When You Receive the Phone Call 
Red flags

Personal injury attorneys
Family lawyers & solo practitioners

Ethics & Professionalism
Client Arrest, Release, Bail & Arraignment

Keeping clients out of custody
Immigration considerations related to custody
The arrest & booking process – who can arrest; rights; questioning; warrant; who maintains arrest records and what they contain
Bail and release – when can release occur; release on OR vs. bail; what is bail and how is it set
Arraignment – what happens at arraignment; timing for arraignment; how to prepare for arraignment
Jail Calls

Grand Jury investigations

State vs. federal
Civil vs. criminal
Federal Grand Jury investigations
Is your client a witness, subject or target?
State Grand Jury indictments – no preliminary hearing
Production of records before the Grand Jury
To testify or not to testify before the Grand Jury?
Challenging the Grand Jury
State civil Grand Jury report
Procedural issues
Prosecutor's obligations
Defense's obligations
Example of Grand Jury cases

Motions

Motion to Dismiss
Demand for Speedy Trial
Notice of Expiration of Speedy Trial Period
Motion to Compel
Motion to Take Depositions
Motion for Continuance
Motion to Suppress Evidence
Motion to Exclude
Bond Motions
Negotiations

Prosecutor
Private practitioner
Federal
Immigration considerations
Statute of limitations
Trial setting dates
Pleas

Arraignment
Grounds for postponing pleas, prior-conviction allegations
Plea of guilty v. no contest
Mentally ill and developmentally disabled
Jimmy Ryce
Sentencing

Misdemeanor & felonies
Minimum mandatories
Immigration – recent case law changes at the USSC
Probation, violation of probabtion
Sentencing guidelines
Prior convictions
Statutory aggravating and mitigating circumstances
Pleas to the court
Enhancements
Testimonials
"This was a very intense and well presented CLE on Florida Criminal Law. Great insight from current Judges and former prosecutors." Charles George, Esq.
"This was an excellent introduction to FL Criminal Practice which is exactly what I was interested in. Materials (particulary Judge Wolfson's) were very good!" Prestor A. Leschim, Esq.
"Very informative as a basic introduction to Criminal Law." Corey Ackerman, Esq.
"I liked the interactive format." N. Paul San Filippo, Esq.
"Very well organized." Scott Grauman, Esq.
These are testimonials from the same program held in CA in 2013:
"Seminar was very true to its advertising." Conness Thompson
"Great event!"
"The speakers had great experience to share, lots of practical information."
"Was a very good overview, which was just what I wanted."
"Enjoyed the client control and advisement long with legal issues."
"Provided a good general overview of criminal defense."
Faculty
Hon. Robert Luck
Circuit Court Judge
Eleventh Judicial Circuit of Florida

Judge Robert J. Luck was appointed to the circuit court bench in September 2013. Since then, he has been assigned to the felony criminal division where he has presided over more than thirty jury trials, including for murder, rape, and public corruption, and heard more than a dozen civil, criminal, and administrative appeals.
Before Judge Luck's appointment, he was an Assistant United States Attorney in Miami. At the United States Attorney's Office, Judge Luck tried nineteen federal jury trials, and prosecuted doctors, nurses and company owners for health care fraud, and chief executive officers and accountants for securities and investment fraud. Judge Luck's last position was as deputy chief of the major crimes section, where he was part of the Office's gun violence initiative.
Judge Luck also worked in the appellate department of the Greenberg Traurig law firm's Miami office. At Greenberg Traurig, Judge Luck helped with appeals from municipal land use decisions, and state and federal contract disputes, tort actions, and constitutional challenges. Judge Luck began his legal career as a law clerk and staff attorney to Chief Judge Edward E. Carnes on the United States Court of Appeals for the Eleventh Circuit.
Judge Luck went to undergraduate and law school at the University of Florida. Judge Luck graduated highest honors with a bachelor of arts in Economics. In law school, Judge Luck graduated magna cum laude and Order of the Coif, and in his final semester, served as editor in chief of the Florida Law Review.
Like his father before him, Judge Luck was born and raised in Miami-Dade County. His father was a used and new truck dealer, and his mother taught art to elementary school students in the Miami-Dade County Public schools. Judge Luck himself is a product of the public school system, graduating from North Miami Beach Senior High. He still lives in North Miami Beach with his wife Jennifer, and two children, Julia and Jacob.
---
Hon. Daryl E. Trawick
Circuit Court Judge
Eleventh Judicial Circuit of Florida

Biography coming – check back soon!
---
Hon. Andrea Wolfson
Circuit Court Judge
Eleventh Judicial Circuit of Florida

Judge Andrea R. Wolfson was appointed to the County Court bench in May 2010 and was elected in 2012. Initially, she presided over criminal traffic and misdemeanor cases as well as civil domestic violence injunction hearings and uncontested divorces. Presently, Judge Wolfson presides over DUI, criminal traffic, and misdemeanor cases. Judge Wolfson also sits in an appellate capacity over administrative matters and serves as co-chair of the Eleventh Judicial Circuit Professionalism Committee.
Prior to her judicial appointment, Judge Wolfson was employed as a prosecutor with the Miami-Dade State Attorney's Office. Judge Wolfson also served as a Special Assistant United States Attorney with the U.S. Attorney's Office for the Southern District of Florida.
Judge Wolfson holds a Bachelor of Science Degree in Pre-Professional Studies from the University of Notre Dame. Following her undergraduate studies, Judge Wolfson received a Master of Science in Biological Sciences from Southern Illinois University at Edwardsville. Judge Wolfson received her Juris Doctor with Honors from the Chicago-Kent College of Law.
---
Kaylin Grey, Esq.
Attorney
Conrad & Scherer LLP

Ms. Kaylin Grey is a Senior Associate in the Firm's Fort Lauderdale office. Ms. Grey is a seasoned trial attorney. She has litigated more than 100 bench trials and over 20 jury cases as a former prosecutor with the Miami-Dade State Attorney's Office. She also has significant experience handling complex civil litigation matters in both state and federal court.
Prior to joining the Firm, Ms. Grey practiced at a prominent international law firm in their Miami office. Ms. Grey focused her practice on product liability and toxic tort defense representing product manufacturers. She also represented both plaintiffs and defendants in a variety of general commercial litigation matters including breach of contract, fraud, civil theft and replevin.
---
Eric K. Gressman, Esq.
Partner
Kelley Kronenberg PA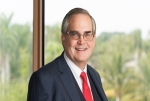 Eric Gressman is a Partner in the Miami office of Kelley Kronenberg PA, focusing his practice on all aspects of liability and casualty defense.
Eric is a very experienced litigator who has served as lead counsel in over 400 State and Federal jury trials, 100 non‐jury trials, and over 100 appeals. Eric has handled matters involving wrongful death, personal injury, personnel, employment, discrimination, medical malpractice, civil rights, false arrest, excessive force, construction contracts, First Amendment, the RICO Act, and civil theft claims.
Prior to joining Kelley Kronenberg PA, Eric served for more than 35 years as an Assistant County Attorney at the Miami-Dade County Attorney's Office. During his tenure there, Eric served as the Chief of the Torts Section and received an award for exemplary service.
He is also a Premier Tutor and Instructor for The Princeton Review. Eric teaches future law and business students how to prepare for the LSAT and GMAT. He has taught at The Princeton Review since 2005.
In addition, Eric is a Legal Research & Writing Instructor at the University of Miami School of Law and was co-author, Necessary and Proper Roots of Exceptions to Federal Jurisdiction, 51 Geo. Wash. L. Rev. 495 (1983).
Eric was nominated as the Note Editor of a law review. He has published articles on jurisdiction and international law in George Washington University Law Review and law review at the University of Michigan.
---
Eric Hernandez, Esq.
Principal
Hernandez Lee, LLC

Eric A. Hernandez is an experienced trial and appellate lawyer. His practice focuses on complex business and securities/commodities litigation, state and municipal government matters, labor and employment matters, federal government regulatory/corporate compliance matters, whistleblower representation, and white-collar criminal defense.
Mr. Hernandez's years of legal practice in the private and public sectors have afforded him an extensive understanding of the legal and practical issues faced by individuals, businesses, and governmental entities, and the ability to provide and implement pragmatic solutions for his clients.
---
Bradley Pepper, Esq.
Law Office of Bradley Pepper, P.A.

Bradley Pepper is admitted to practice law in the states of Florida and New Jersey. He specializes as a Criminal Defense attorney and Personal Injury attorney in Miami, Ft. Lauderdale and throughout the South Florida region. Mr. Pepper has a wide range of knowledge in the areas of criminal law and personal injury law. More specifically, Mr. Pepper is qualified to represent you in cases involving Driving Under the Influence (DUI), Possession/Sale of Controlled Substance, Trafficking, Probation Violations, Domestic Violence, Assault, Weapon Offenses, Aggravated Battery, Disorderly Conduct, Violent Crimes, Juvenile Crimes, Arson, Animal Cruelty, Burglary, Armed Robbery, Battery on a Law Enforcement Officer, Resisting With Violence, Practicing Medicine without a License, Kidnapping, Homicide, Sexual Battery, Child Abuse or Neglect, White Collar Crime, Driving with a Suspended License, and criminal record sealing or expunging.
In 2003, Mr. Pepper received a Bachelor of Literature, Science and Arts degree from the University of Michigan, where he was a member of the Michigan Community Scholars Program. He then attended Brooklyn Law School where he was conferred his Juris Doctorate.
Upon graduation from law school, Mr. Pepper joined the securities litigation practice of a prominent plaintiffs' law firm in New York City, Bernstein Liebhard, LLP. While at Bernstein, Mr. Pepper participated in a class action litigation involving a leading international insurance broker accused of securities fraud. While in law school, Mr. Pepper clerked at the New York City Mayor's Office of Labor Relations as well as the Public Defender's Office of Bergen County, New Jersey.
Today, Mr. Pepper has been named by Florida Legal Elite Magazine (2010) as one of the top 100 attorneys in the State of Florida under the age of 40. He has been recognized as providing quality representation with proven results to individuals in the South Florida area. His focus is on pre-trial motion practice and dealing with the State Attorney in order to get charges dropped or reduced. Once pre-trial practice has been exhausted, Mr. Pepper will move on to trial preparation where your case is prepared to be heard by a jury of your peers.
---
Beranton J. Whisenant Jr., Esq.
Assistant United States Attorney
United States Attorney's Office, Southern District of Florida
Beranton Whisenant passed away on May 24, 2017. We will miss him.
Beranton J. Whisenant, Jr. is an Assistant United States Attorney for the Southern District of Florida in the Criminal Section. Before joining the Department of Justice, Mr. Whisenant was a partner Foley & Mansfield, PLLP-Miami where he focused his legal practice in civil litigation, product liability, contracts, personal injury, wrongful death, and medical malpractice defense. Mr. Whisenant also served as an Assistant State Attorney in in Jacksonville, Florida.
Mr. Whisenant is an active member of The Florida Bar, a leader in voluntary bar organizations, and an advocate for professionalism and civility in the practice of law. He served as a member of the Eleventh Judicial Circuit Professionalism Panel and Chair of The Florida Bar's Eleventh Judicial Circuit Grievance Committee – Division "L." He is a William Reece Smith, Jr. Leadership Academy Fellow, a member of The Florida Bar's Judicial Nominations Procedure committee, and a member on the Florida Supreme Court's Commission on Professionalism.
Mr. Whisenant is also a lecturer at the University of Miami Paralegal Program where he teaches civil, criminal, and appellate procedure and contract law. He has served as a guest lecturer at the University of Miami School of Law, Florida Coastal School of Law, and the University of North Florida.
---
Fees
Audio Course and Materials Package – Download or CD: $425 $212.50
CDs: plus $8.50 shipping and, in CA, sales tax.
CLE Credit
CA General:  This program is approved for 6.5 hours of MCLE credit in California, including 0.5 hour of ethics credit.
FL General:  This program is no longer approved for CLE credit in Florida. CLE expired on February 17, 2017.
This program is approved for CLE in the states listed above.  Upon request, Pincus Pro Ed will provide any information an attorney needs to support their application for CLE approval in other states other than what is listed above.
Terms and Policies
Recording policy: No audio or video recording of any program is permitted.
Seminar Cancellations: Should you be unable to attend for any reason, please inform us in writing no later than 14 days prior to the event and a credit voucher will be issued. If you prefer, a refund, less a $50 non-refundable deposit, will be issued. No refunds or credits will be given for cancellations received within 14 days of an event. However, if you notify us within 14 days of an event, and wish to convert your in-person attendance registration to an Audio CD package (with handout), we can do so. A small additional shipping charge, and sales tax in CA, will be incurred. No shipping charge is incurred for downloads. We will also issue a voucher for the amount paid if you notify us within 14 days and prefer not to have the audio recording.
Substitutions may be made at any time.
Webinars, Tele-seminars and Webcast Cancellations: Once log-in codes and passwords are issued for a webinar, tele-seminars or webcasts, a refund is not possible. If for any reason you cannot attend the event after you have received the codes, we will automatically convert your registration to an instant streaming/instant download or CD format and provide you with the information you need to access the recording after the program concludes and the recording is available.  Conversions to CD require a $8.50 shipping fee, and in CA, 9% sales tax.
Downloads/CDs/DVDs – Refund policy:
Downloads are non-returnable/non-refundable once purchased and received. Tapes, CDs and DVDs are returnable for a full refund or replacement if defective, within 90 days of purchase.
Reminder: The room temperature at hotels and other seminar locations are notoriously hard to control. Please bring a sweater or jacket in case it gets cold and/or layer as if you are going to the movies so you are comfortable.