Bankruptcy 101-102: Chapter 11 Essentials and More
Audio program! (check our CLE Programs page for live versions)
This program is relevant for any attorney who would like to develop his or her Chapter 11 skills, including a beginner level attorney who has knowledge of Chapter 13s or 7s, and who wants to learn new strategies (as well as learn mistakes not to make from the court's perspective).
Our speakers, including a sitting federal judge, planned the program for months, so you can expect a well-organized, detailed and informative program. (see below for full list and bios).
The faculty covers: "First Day" and Other Motions, forms, automatic stays, employment issues, debts, collateral and topics related to the US Trustee. Also discussed are cases that involve high-tech or entertainment business clients, small business cases, and food businesses.
They also address typical Issues, including monthly operating reports, 363 sales, Nondischargeability, valuation, avoidance, creditor's committees and other important topics.
Our Confirmation & After session gets into voting, cramdowns, gerrymandering, the absolute priority rule, post-confirmation tasks, motions and discharge among other things.
During our Special Situations session, faculty covers things like divorce, taxes, WARN acts, reclamation, employment benefit plans and the like.
The faculty also discusses how to move from a Chapter 13 to a Chapter 11 – a difficult shift for those not familiar with Chapter 11.
This program was recorded in California in 2016.
Do you want to improve your public speaking skills? Get Faith Pincus' newly published book Being Heard: Presentation Skills for Attorneys, from the ABA now (ABA members receive 10% off). It is also available on Amazon in Kindle and paperback versions.
What You Will Learn
Overview
Pre-Bankruptcy Planning
"First Day" and Other Motions
Forms
Continuation or imposition of the automatic stay for individuals
Extension of time to file bankruptcy schedules
Employment application
Prepetition debts: payroll & taxes & "critical vendors"
Cash collateral
Budget motion
U.S. Trustee
Setting deadline to files proofs of claim and/or proofs of interest
Loan modification discussions
Service/Notice
Typical Issues
Monthly operating reports
363 sales
Nondischargeability actions
Valuation of assets
Fee applications
U.S. Trustee
Avoidance actions & claim objections
Creditors committee
Unexpired leases & executory contracts
Exclusivity
Confirmation & After
Voting
Cramdown
Gerrymandering
Absolute priority rule
Post-Confirmation
Motion to Amend Plan
Final decree/closing
Discharge
Special Situations
Divorce
Taxes
High tech or entertainment business
Single Asset Real Estate (SARE) cases
"Small Business" cases
Health care
Employee benefit plans
WARN acts (state & fed) and Obamacare obligations
Reclamation claims
Food businesses
Testimonials
"Very comprehensive course for beginning Chapter 11 practitioners." – Marilyn Caston, Esq.
"This was a very organized and informative panel…I definitely learned a lot and have fantastic outlines to refer to later on. All of the speakers were excellent! The materials were great." – Anne Manalili, Esq.
"Very helpful and informative. Great speakers. [There was a] good mix of information and practical application." -Erin McCartney, Esq.
"Very good." – Brad Weil, Esq.
"I thought the material was very good and informative." – Leslie Klott, Esq.
"Gained some knowledge [on aspects of Bankruptcy practice] I'd never thought about." – Douglas Klein, Esq.
"Very good." – Nancy Korompis, Esq.
Faculty
Hon. Neil W. Bason
Judge
United States Bankruptcy Court Central District Of California

Neil W. Bason is a U.S. Bankruptcy Judge in downtown Los Angeles. He graduated from the Boston University School of Law in 1988 and was in private practice in Boston and San Francisco. From approximately 2000 through early 2008 he had the invaluable experience of working as a law clerk to the Honorable Dennis Montali, Bankruptcy Judge of the Northern District of California and Chief Judge of the Bankruptcy Appellate Panel of the Ninth Circuit. In 2008 through 2011 he was fortunate to work with friends and colleagues in private practice, first at Howard Rice Nemerovski Canady Falk & Rabkin, P.C. (now combined with Arnold & Porter LLP) and then at Duane Morris LLP. Before taking the bench he represented a wide variety of interests in commercial bankruptcy and insolvency matters including secured creditors, trustees, receivers, debtors/borrowers, guarantors, unsecured creditors, prospective purchasers of assets out of bankruptcy, parties to executory contracts and unexpired leases, equity holders, and other parties in interest. He has been a frequent speaker and writer on bankruptcy and insolvency topics, and a member and officer of various bankruptcy and insolvency organizations. When Judge Bason is not sitting in downtown Los Angeles he is usually hiking, biking, or dining nearby.
---
Steven R. Fox, Esq.
Principal
The Fox Law Corporation, Inc.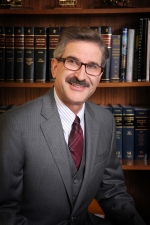 Steven R. Fox heads a small firm in Encino, California where he limits his practice to representing debtors and creditors in bankruptcy. Mr. Fox is noted for his use of chapter 11 to reorganize small and medium businesses.
Mr. Fox received his bachelor's degree from the University of California and his J.D. degree from Loyola Marymount University School of Law. He clerked for the Honorable Richard Stair, United States Bankruptcy Judge, Eastern District of Tennessee.
Mr. Fox is a member of the State Bar of California, the American Bankruptcy Institute, the Los Angeles Bankruptcy Forum, the National Association of Consumer Bankruptcy Attorneys and the San Fernando Valley Bar Association (former trustee). Mr. Fox frequently speaks and writes on bankruptcy topics. Mr. Fox is one of the founders of the Central District Consumer Bankruptcy Attorneys Association.
---
Stella Havkin, Esq.
Partner
Havkin & Shrago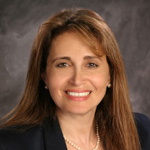 Stella Havkin, received her B.A. from York University in Toronto, Canada with a focus on Psychology and Political Science in 1984. She was awarded her degree with the honor of Magna Cum Laude. While at York University, Ms. Havkin was on Dean's List and Dean's Honor Roll, 1980-1984. She was a member of the Vingt-Deux Club (the top twenty-two graduating students). While at York University, Ms. Havkin worked for the Canadian Armed Forces where she conducted statistical analyses and authored an article which was published in a NATO publication on attrition of women in the military.
Ms. Havkin received her J.D. from University of California, Hastings College of Law in May, 1987. While at Hastings, she was a Member of Hastings International and Comparative Law Review from 1985-1986, Associate Note Editor, 1986-1987 and the author of the Note, "The Foreign Sovereign Immunities Act: The Relationship Between the Commercial Activity Exception and the Noncommercial Tort Exception in Light of De Sanchez v. Banco Central de Nicaragua", published in Volume 10:2, September, 1987 which was selected for publication on Westlaw. Also, while at Hastings, Ms. Havkin served as a judicial extern to the Honorable Justice M.O. Sabraw – California Court of Appeal, First District, Fourth Division.
Ms. Havkin has been a member of the California State Bar since 1988. She is admitted to practice before the all the Courts in California, the Ninth Circuit of Appeals, the Fifth Circuit of Appeals, the Federal District Courts in California and in Austin, Texas.
Ms. Havkin is a Certified Bankruptcy Specialist certified by the State Bar of California Board of Legal Specialization and a Certified Consumer Bankruptcy Law Specialist certified by the American Board of Certification.
She has been a partner at the firm of Litwak and Havkin from 1998 through end of July, 2012. Since August, 2012, she has been a partner with Havkin & Shrago.
Ms. Havkin is editor of the Central District of California Consumer Bankruptcy Attorneys Association Newsletter and is on the Board of the same organization.
Stella was named as 2013 and 2014 Super Lawyer in the Super Lawyer Magazine in the field of Consumer Bankruptcy Law.
Ms. Havkin is a commissioner with the State Bar of California Bankruptcy Legal Specialization Board.
---
Peter Lively, Esq.
Principal
Law Office of Peter M. Lively

Peter Maurice Lively is the principal of the Law Office of Peter M. Lively in Culver City. He has practiced for 18 years in the area of small business and consumer reorganizations and liquidations pursuant to the provisions of the Bankruptcy Code.
Mr. Lively has personally represented a variety of debtors as counsel of record in nearly 2,500 cases (approximately 1,588 Chapter 7s, 48 Chapter 11s and 1,155 Chapter 13s). Mr. Lively has also represented debtors in bankruptcy appellate matters. He speaks regularly on bankruptcy topics and is active in numerous bar associations and is now a part-time adjunct profession at UCLA Law School.
Mr. Lively concurrently received his J.D. from UCLA School of Law and his M.B.A. from the UCLA Anderson School of Management in 1992 and concurrent B.S. degrees in Economics and Management from Carnegie Mellon University in 1988, where he graduated with high honors and was President of Beta Gamma Sigma (National Business Honors Society).
Mr. Lively has been a member of the State Bar of California since 1992, has been admitted before the U.S. District Court, Central District of California since 1993, and has been admitted to the U.S. Court of Appeals for the Ninth Circuit since 2007. Mr. Lively was named one of The Recorder Legal Newpaper's 2011 attorneys of the year for his work persuading the U.S. Bankruptcy Court in Los Angeles to strike down the Defense of Marriage Act as discriminatory against gays and lesbians and allow a marriage same-sex couple to proceed with a joint Chapter 13 bankruptcy case.
---
Dennis McGoldrick, Esq.
Law Office of Dennis McGoldrick

Dennis McGoldrick has limited his practice to bankruptcy and insolvency since 1982. He was a panel bankruptcy trustee from 1986 to 1991, administering over 10,000 cases. He has also completed Bankruptcy Mediator training and now is on the panel of Bankruptcy Mediators for the Central District of California. Dennis is also a Certified Specialist in Bankruptcy, certified by the Board of Legal Specialization of the State Bar of California.
Dennis is a founder, and was the first president of the Central District Consumer Bankruptcy Attorneys Assoication. Dennis published his book, McGoldrick's Chapter 11, Consumer and Small Business Cases in 2012 and charied a task force to write individual chapter 11 forms for the U.S. Bankruptcy Court. The 2081 forms were written by the task force.
He graduated from Loyola Law School in December, 1980 and was admitted to the bar May 29, 1981.
---
Roksana D. Moradi-Brovia, Esq.
Partner and Certified Legal Specialist in Bankruptcy Law
Resnik Hayes Moradi LLP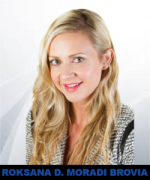 Roksana D. Moradi-Brovia has dedicated her legal career to representation of both individuals and businesses navigating through Chapter 7 and Chapter 11, and litigation arising in the bankruptcy context.
She has successfully confirmed 72 Chapter 11 Plans of Reorganization for both individuals and businesses, assisting her clients through the "rehabilitation" process at each step of the way. Recent Chapter 11 cases include representing a couple with 19 income producing real properties, a small trucking company, a jewelry store, a dental practice, and an LLC which owns a 13 unit commercial building.
Ms. Moradi-Brovia was nominated as a Super Lawyers Rising Star in 2014, 2015, 2016, 2017, and 2018.
Ms. Moradi-Brovia is the Chair of the Commercial Law and Bankruptcy Section of the Los Angeles County Bar Association ("LACBA"), previously holding the positions of Programs Chair, Secretary and Vice Chair. She acted as Chair of the Debtor Assistance Project/Pro Bono Sub-Committee of the Bankruptcy/Commercial Law Section of LACBA from 2013 through 2017. Ms. Moradi-Brovia was the LACBA representative for the U.S. Bankruptcy Court for the Central District of California's Bar Advisory Board for year 2017.
She is the 2018 President of the Central District Consumer Bankruptcy Attorneys Association ("cdcbaa") and has been on the Board of Directors and the Programs Chair of the cdcbaa since 2013.
In 2014, Ms. Moradi-Brovia was selected by the U.S. Bankruptcy Court for the Central District of California's Bar Rules Advisory Group as the Working Group Chair of the "Disclosure Statement in Support of Chapter 11 Plan of Reorganization," "Cash Collateral Motion," and "Budget Motion" committees working to revise the current versions of those Chapter 11 Individual Debtor forms.
---
Fees
Audio Course and Materials Package – Download or CD: $425
CDs: plus $8.50 shipping and, in CA, sales tax.
CLE Credit
CA General:  This program is approved for 7.5 units of general CLE in California.
CA Certified Legal Specialist:  This program is approved for 7.5 Certified Legal Specialist Credit in Bankruptcy Law.
This program is approved for CLE in the states listed above.  Upon request, Pincus Pro Ed will provide any information an attorney needs to support their application for CLE approval in other states other than what is listed above.
Terms and Policies
Recording policy: No audio or video recording of any program is permitted.
Seminar Cancellations: Should you be unable to attend for any reason, please inform us in writing no later than 14 days prior to the event and a credit voucher will be issued. If you prefer, a refund, less a $50 non-refundable deposit, will be issued. No refunds or credits will be given for cancellations received within 14 days of an event. However, if you notify us within 14 days of an event, and wish to convert your in-person attendance registration to an Audio CD package (with handout), we can do so. A small additional shipping charge, and sales tax in CA, will be incurred. No shipping charge is incurred for downloads. We will also issue a voucher for the amount paid if you notify us within 14 days and prefer not to have the audio recording.
Substitutions may be made at any time.
Webinars, Tele-seminars and Webcast Cancellations: Once log-in codes and passwords are issued for a webinar, tele-seminars or webcasts, a refund is not possible. If for any reason you cannot attend the event after you have received the codes, we will automatically convert your registration to an instant streaming/instant download or CD format and provide you with the information you need to access the recording after the program concludes and the recording is available.  Conversions to CD require a $8.50 shipping fee, and in CA, 9% sales tax.
Downloads/CDs/DVDs – Refund policy:
Downloads are non-returnable/non-refundable once purchased and received. Tapes, CDs and DVDs are returnable for a full refund or replacement if defective, within 90 days of purchase.
Reminder: The room temperature at hotels and other seminar locations are notoriously hard to control. Please bring a sweater or jacket in case it gets cold and/or layer as if you are going to the movies so you are comfortable.