Crimmigration – What are the Immigration Consequences of a Criminal Conviction: The Nuts and Bolts (Webinar)
Audio program! (check our CLE Programs page for live versions)
If you'd like to know more about how a criminal conviction will affect your client's immigration status, this program will give you an in-depth look at what you need to know and how to best help your clients.
An immigration expert will review issues relating to removability, inadmissibility, and denial of naturalization, as well as immigration crimes and vehicles for post-conviction relief.
This program is in the planning stages. For more details, see the "What you will learn/Agenda" tab.
This program will be recorded live on August 1, 2019. The webinar package, including materials, recording and PowerPoint, will be available 24 hours after the program date. 
Have you ever thought about  improving your public speaking skills? Now is the time! Get Faith Pincus' newly published book Being Heard: Presentation Skills for Attorneys, from the ABA now (ABA members receive 10%-20% off). It is also available on Amazon in Kindle and paperback versions.
What You Will Learn
Immigration consequences to be aware of:

Removability
Inadmissibility

Criminal bars:

CIMTs
Illegal Drugs
Drug trafficking

Denial of naturalization
Other consequences

Immigration related crimes
Vehicles for post-conviction relief
Testimonials
The following testimonials are from a previous Crimmigration webinar covering similar topics:
"Great speakers." Emily J. Kingston Slichter, Esq.
"I learned something new about crimmigration. I liked the question and answer format of the presentation." David Gomez, Esq.
"Fully satisfied. Good training – it was very comprehensive." Maria Blanco, Esq.
"Very helpful series! Excellent!"
Faculty
Juliana G Lamardo, Esq.
Founder
Law Offices of Juliana G. Lamardo, P.A.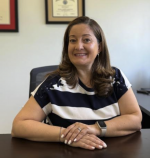 Juliana G. Lamardo was born in São Paulo, Brazil. When she was 8 years old, her parents made the difficult decision to leave Brazil in search of a better life. Juliana's father obtained an L-1A visa and moved the entire family to the United States. In 1994, Juliana became a lawful permanent resident and then a U.S. Citizen in 2001. Juliana experienced the immigration process firsthand and knows how apprehensive it can be.
Juliana attended Florida International University in Miami and earned a Bachelor's in Business Administration in 2003. Following her mother's footsteps as an attorney, Juliana attended law school at Barry University School of Law in Orlando, Florida. She graduated in 2007. It was in law school where her desire to help other immigrants came to life.
Juliana opened the Law Offices of Juliana G. Lamardo in 2016. She was previously a Senior Associate Attorney with a private immigration law firm for over six years, where she handled thousands of cases. She concentrates in the areas of deportation defense, bond hearings, deferred inspections, family-based residency, Citizenship, and naturalization.
Juliana has represented clients in removal and bond proceedings before the Immigration Court, before the United States Citizenship and Immigration Services (USCIS) on family-based petitions, applications for residency, and applications for Citizenship, as well as various waivers for criminal activity. She has also appeared before the Customs Border Protection (CBP) for deferred inspections.
She is a frequent speaker at various immigration-related seminars including the American Immigration Lawyers Association (AILA), Pincus Professional Education, and the Association for the Studies of the Cuban Economy (ASCE). She was also a regular guest speaker on Almavisión radio (87.7 FM) on issues related to immigration.
She has been licensed by the Supreme Court of Florida and the United States District Court, Southern District of Florida Division since 2008. She is also a member of the Florida Bar and is licensed to practice immigration in all 50 states.
Juliana is fluent in Portuguese, Spanish, and English. She understands the complexities associated with immigration procedures and she applies her knowledge and background to competently assist those who wish to build a life in this country.
---
Fees
Webinar Recording & Materials Package, including recording, all program materials and the PowerPoint – available on CD or Download: $129
For CDs please add $8.50 shipping and, in CA, sales tax.
(Webinar packages are available 24 hours after the seminar is held.)
CLE Credit
CA General: This program is approved for 1.5 units of general CLE in California.
CA Certified Legal Specialist: This program is approved for 1.5 units of Certified Legal Specialist CLE in Immigration & Nationality Law in California.
FL General: This program is approved for 2.0 units of general CLE in Florida through February 28, 2021.
FL Board Certified: This program is approved for FL Board Certified units through February 28, 2021 as follows:
2.0 units in Criminal Appellate Law
2..0 units in Criminal Trial Law
2.0 units in Immigration & Nationality Law
This program is currently approved for CLE in the states listed above and can be approved in other states by submitting it to your state with our help. We have never had a state refuse to approve a program submitted directly by an attorney.
Upon request, Pincus Pro Ed will provide any information an attorney needs to support their application for CLE approval in other states other than what is listed above.
Terms and Policies
Recording policy: No audio or video recording of any program is permitted.
Seminar Cancellations: Should you be unable to attend for any reason, please inform us in writing no later than 14 days prior to the event and a credit voucher will be issued. If you prefer, a refund, less a $50 non-refundable deposit, will be issued. No refunds or credits will be given for cancellations received within 14 days of an event. However, if you notify us within 14 days of an event, and wish to convert your in-person attendance registration to an Audio CD package (with handout), we can do so. A small additional shipping charge, and sales tax in CA, will be incurred. No shipping charge is incurred for downloads. We will also issue a voucher for the amount paid if you notify us within 14 days and prefer not to have the audio recording.
Substitutions may be made at any time.
Webinars, Tele-seminars and Webcast Cancellations: Once log-in codes and passwords are issued for a webinar, tele-seminars or webcasts, a refund is not possible. If for any reason you cannot attend the event after you have received the codes, we will automatically convert your registration to an instant streaming/instant download or CD format and provide you with the information you need to access the recording after the program concludes and the recording is available.  Conversions to CD require a $8.50 shipping fee, and in CA, 9% sales tax.
Downloads/CDs/DVDs – Refund policy:
Downloads are non-returnable/non-refundable once purchased and received. Tapes, CDs and DVDs are returnable for a full refund or replacement if defective, within 90 days of purchase.
Reminder: The room temperature at hotels and other seminar locations are notoriously hard to control. Please bring a sweater or jacket in case it gets cold and/or layer as if you are going to the movies so you are comfortable.