Circuit Court Boot Camp (8th Annual): A Practical Trial Litigation Skills Seminar (IL)
Pincus Professional Education has put on its seminal Circuit Court Boot Camp for eight years for a reason – it's that good.
Year after year attendees rave about the program.
Year after year we tweak the agenda based on input to make it even better.
Year after year we invite the same speakers back because their ratings are so good and attendees learn so much from them.
We cover everything from complaints to discovery to case management conferences, motion writing and tricks, trial prep, and trial techniques. All from the Circuit Court perspective.
All designed to teach you the mistakes not to make – how not to ruin your case and your reputation with Circuit Court judges.
If you have an upcoming case or will be branching into circuit court and want to know what to expect, this class is for you. If you're a new trial attorney, this class is for you. Just graduated law school? – can't miss it. You don't get these skills and this practical advice in law school.
There is no better Circuit Court primer CLE in Illinois. Our testimonials (see tab below) can speak to that claim.
Agenda
8:30 – 8:35
Intro to course
8:35 – 9:30
The Early Stuff: Case Theories, Complaints, Answers, Motions to Dismiss, Motions to Strike and CMCs
Case Theories
Complaints and Answers

Rules and timelines
How to do it
Strategies
Common mistakes

MTDs/Motions to Strike
MTDs v. Answers
Case Management Conference / Scheduling Your Case
9:30 – 10:15
Non-Oral Discovery & E-Discovery
Regular Discovery

Key Rules and Timeline
Overlooked Deadlines
Procedural Issues that are often missed or common
Strategies and choices
Circuit Court v. Federal Court
RFPs

E-Discovery

Key Rules and timeline
Strategies
Cost Saving Measures
Mistakes not to make
Important state cases
10:15 – 10:30
BREAK
10:30 – 11:10
Oral Depositions
State v. Federal rule differences
Deciding whom to depose
Taking good depositions / Mistakes not to make
Making effective use of depositions at trial
11:10 – 11:50
Motions for Summary Judgment
11:50 – 12:05
Other Motions
12:05 – 12:30
Q & A
Lunch
12:30 – 1:30
1:30 – 2:00
Other Motions
Reconsideration
Motions to Compel / Motions for Protective Order
Motion to Exclude Expert Testimony
2:00 – 2:15
Oral Argument
2:15 – 2:25
Heading to Trial
Final Status Conference
Trial Outline
Motions in Limine
2:25 – 2:35
BREAK
2:35 – 3:35
Your Pre-Trial Tasks, Selecting and Dealing with Your Jury
Jury Selection in State Court / Procedure, Strategies and Questionnaires
Jury Instructions, Jury Verdict Forms
Evidence Issues
3:35 – 3:45
Q & A
3:55 – 4:55
Your Trial
Opening Statements
Direct and Cross-Examinations of Lay
Direct and Cross-Examination of Expert witnesses
Evidentiary Objections
Closing Arguments
4:55 – 5:20
Post-Trial Motions and Judgments
Post-Trial Motions
Judgments
5:20 – 5:30
Final Q & A
Dates and Times and Locations
December 7, 2017
8:30 a.m. – 5:30 p.m. (lunch on your own)
Check In between 8:00 a.m. – 8:30 a.m.
Pincus Professional Education
@ the Robert A. Clifford Seminar Room
321 S. Plymouth Court, Fifth Floor
Chicago IL 60604
(Be sure to arrive at least ten minutes before start time if you want to make sure you have a good seat)
Testimonials
"Good substantive content, legal updates, and case law." – David Swiss, Esq.
"I very much liked the opportunity for spontaneous questions and resulting discussion." – Mel Newman, Esq.
"It covered a lot of beneficial [information]. Speakers' experiences were very helpful." – Gabriel Borges, Esq.
"I really enjoyed how the speakers talked about mistakes they'd seen or done. It made it less dry and easier to follow. I really liked the list of objections."
"Nice to have a judge's perspective. [Judge Tailor was a] good speaker. [Megan Thibert-Ind] was my favorite speaker…very engaging and great advice."
"[Morning speakers] were great and worked well together."
"Excellent program and extremely beneficial!" – Peter Benke Esq.
"This was one of the best CLE's I have attended this year." – John A. Doerrer, Esq.
"Great investment to my future in trial practice." – Kevin Borozan, Esq.
"The speakers were informative and animated, keeping me engaged. Many wonderful tips I will carry over into my own practice." – Shanna N. Crafts, Esq.
"This program should be mandatory for all new attorneys." – Anthony McMahon, Esq.
"This was extremely helpful for my practice." – Lhea Keller, Esq.
"Very happy with the practical tips and experience that came out of the seminar." – Jessica Rimkus, Esq.
"Panel/Speakers were very pleasant. Significant amount of information packed in sessions. The seminar was enjoyable and informative." – Greg Sandifer Esq.
"Good info in each section. Thank you." – Eric Chisholm, Esq.
"Extremely well organized, informative, interesting and helpful." – Nancy Pacher, Esq.
"All the speakers were great!" – Amit Patel, Esq.
"Very informative, especially practical pointers."
"I liked having both plaintiff and defense counsel on the same panel.  I like the diversity of the forms represented and appreciated the practical tips." – Natasha Adler, Esq.
"Speakers were very knowledgeable and informative."
"Everything was covered – jury instructions were very helpful."
"Very good course especially when they gave specific stories and/or examples."
"Very good trial advocacy overview." – Amanda Wendorff, Esq.
"The mechanical aspect of litigation improved my knowledge as a new attorney. Understanding the process from beginning to end."
"Really informative and great to hear a judge's perspective, especially one from the law division." – Julie Sieracki, Esq.
"Helpful info presented." – David Mellem, Esq.
"Excellent and hugely helpful. Animated but extememly relevant info…" – Mario P. Carlasare, Esq.
"Engaging, thought-provoking relevant information."
"Great aids. Excellent panel – very informative." – Anthony O'Neill, Esq.
"Good explanation of discovery requirements." – Amy Rapoport, Esq.
"Great discussion of direct and cross."
"Gave a lot of insight on the inner mechanics of the Circuit Court system at trial. A++!"
"Very good. Would recommend to others." – Bruce Theobald, Esq.
"Very experienced speakers with practical real-world examples." – Lisa Clay, Esq.
"Good content!" – Michael Lightfoot, Esq.
"The enumerated lessons (i.e. 10 things to do on direct examination for expert witness) were very valuable!" – Valerie Magnuson, Esq.
"Great tips on drafting discovery requests."
"Excellent examples and analogies."
"Great suggestions! Good to have a judge's perspective."
Faculty
Hon. Patricia S. Spratt
Judge
Circuit Court of Cook County

Patricia S. Spratt was appointed by the Illlinois Supreme Court as a Judge for the Circuit Court of Cook County as of September 8th, 2015.
Prior to her appointment, she had a successful litigation practice with a focus on appeals and commercial and business litigation. Prior to joining private practice, Ms. Spratt clerked for then Chief Judge William J. Bauer of the U.S. Seventh Circuit Court of Appeals. Ms. Spratt has also taught Appellate Advocacy at Loyola University, where she previously received her law degree and served as Editor for the Loyola University of Chicago Law Journal.
---
Hon. William Sullivan
Circuit Court of Cook County

On June 11, 2015, Hon. William B. Sullivan was installed as a Cook County Judge and has since handled a diverse array of court calls, including traffic, misdemeanor, d.u.i., license suspension, and supervision and conditional discharge violation cases.
Prior to becoming a judge, he practiced law independently for 22 ½ years and established significant court experience, demonstrated administrative ability, broad personal experience, and the capacity to understand people from diverse backgrounds. His private law practice was broad and substantial. He handled hundreds of residential and commercial real estate transactions, many complicated business asset sale transactions, negotiation and preparation of commercial and residential leases, preparation of simple and complicated estate plans and trusts, administered decedent's and guardianship estates and trusts, handled family law issues, and litigated many criminal and civil matters.
With regard to his court experience, he has personally tried many civil, criminal, and traffic cases that were both fact-based witness cases and paper-based documentary evidence cases. Judge Sullivan has practiced in all Cook County courts, including all suburban districts, and all of the collar counties.
He's also litigated before the Federal Merit Systems Protection Board, Illinois Department of Labor, Social Security Administration, Illinois Department of Public Aid, Cook County Board of Elections, Cook County Board of Review, the National Association of Realtors Ethics Panel, and the Illinois Department of Professional Regulation.
He has litigated felony, misdemeanor, and traffic cases, torts, commercial matters, property rights issues, family law cases, constitutional concerns, decedent's and guardian estates, and statutory causes of action.
---
Hon. Sanjay Tailor
Judge
Circuit Court of Cook County, Illinois

Judge Sanjay Tailor presides over a commercial calendar in the Law Division of the Circuit Court of Cook County, Illinois. Appointed in 2003, his prior assignments include the Domestic Relations and Municipal Divisions of the court. Sanjay practiced law at Chapman and Cutler; the First National Bank of Chicago; and the Cook County State's Attorney's Office, where he supervised attorneys in the torts and civil rights litigation section. Sanjay has taught Illinois civil procedure at Loyola Law School for the last ten years, and regularly teaches at the Illinois Judicial Education Conference. He is a member of the Illinois Supreme Court's Judicial Performance Committee, and chairs the India Committee of the American Bar Association's Section of International Law. He is a cum laude graduate of Loyola University Chicago School of Law.
---
Michael I. Leonard, Esq.
Attorney at Law
LeonardMeyer LLP

Mike is a nationally recognized trial lawyer who has successfully tried to verdict a wide variety of cases in Federal and State courts across the country. He is a "go-to" trial lawyer who has represented individuals in single plaintiff actions; individuals and companies in class and collective actions; some of the nation's and region's largest corporations; and individuals in Federal and State criminal trials.
Mike has been recognized as a top trial lawyer and commercial and criminal litigator by the following: The National Trial Lawyers; America's Best Attorneys; Super Lawyers; Leading Lawyers Network; American Institute of Criminal Law Attorneys; and Crain's Chicago Business.
Mike's extraordinarily diverse practice has seen him successfully take to verdict cases ranging from securities fraud, employment discrimination, sexual harassment, breach of contract, ERISA, personal injury, and Federal and State criminal matters, among others.
Mike has also arbitrated a wide variety of cases, including international arbitration. Many of his cases have been the subject of national and local media attention, stirring recognition in publications ranging from the Wall Street Journal to the Chicago Tribune, Chicago Sun Times, Los Angeles Times, CBS News, Law 360, and Chicago Daily Law Bulletin.
Mike has a keen interest in the craft and science of trial practice, and he is a frequent lecturer on trial and litigation related subjects. He is an instructor in Northwestern School of Law's prestigious trial practice program, where he has also coached some of its Mock Trial teams.
---
John Ruskusky, Esq.
Partner
Nixon Peabody LLP

John Ruskusky, a partner in Nixon Peabody's Commercial Litigation practice group, is a trial attorney who represents companies and individuals in their business disputes.
John Ruskusky has more than eighteen years of trial, arbitration and counseling experience involving the management of complex business disputes and disputes involving law firms. He counsels businesses and their executives, members and owners in a wide range of disputes, including large business transactions (such as distribution and purchase agreements), medical devices, fiduciary duty claims and dissolution and valuation.
In 2016, he tried a week-long case in which a .8 million judgment, plus attorneys' fees and expenses, was awarded in favor of his clients under the Illinois Wage Payment and Collection Act and for unjust enrichment.
He also recently obtained the dismissal of two lawsuits (one on a motion to dismiss – which was not appealed – and one on summary judgment) in favor of a deceased client, the former majority owner of a real estate auction company, and his probate estate, claiming that more than million was misappropriated by the decedent. The summary judgment decision was affirmed by the Illinois Appellate Court.
John also recently obtained a defense verdict at trial for a Fortune 200 company against claims of national origin discrimination seeking more than million in damages. He also successfully argued the Seventh Circuit appeal.
He also represents business clients with pre-litigation resolution of claims against their former professionals, including a recent case that settled with a multimillion-dollar payment to the client relating to faulty tax and transactional advice.
False Claims Act and Qui Tam
John Ruskusky represents corporate clients in a variety of False Claims Act cases, including those at the pre-intervention stage. My experience includes Department of Defense, Department of Education and General Services Administration matters.
He also represents clients in government investigations and proceedings, including the Department of Defense, the Department of Justice and the Internal Revenue Service.
Real Estate and Construction Litigation
John represents corporate clients in a variety of construction and real estate disputes, including construction defect and delay, property management, general contract, indemnity, Fair Housing Act and zoning matters.
---
Judith S. Sherwin, Esq.
Partner
Lewis Brisbois

Judith Sherwin is a partner in the Chicago office of Lewis Brisbois and a member of the Healthcare Practice. Ms. Sherwin has been awarded an AV® Peer Review Rating from Martin-Hubbell. She is also a member of the Leading Lawyers Network in the category of Healthcare.
---
Jack O. Snyder, Jr., Esq.
Barack Ferrazzano Kirschbaum & Nagelberg LLP

Jack is an associate in the Firm's Motor Vehicle and Litigation Groups. He focuses his practice on complex commercial litigation and has represented clients in a broad range of matters, including motor vehicle franchise disputes and dealer network matters, such as dealer terminations, sales and performance standards, and breach of contract. Jack's litigation experience includes: commercial foreclosures; enforcement of loan agreements and out-of-state judgments; landlord-tenant disputes; commercial disputes over contract claims and business torts such as claims for breach of fiduciary duty; and price discrimination claims.
In addition, Jack has substantial experience in effectively using various forms of alternative dispute resolution and mediation. Through this focus, he has mediated and resolved several cases involving different manufacturers and markets, as well as negotiated licensing disputes with state regulators and drafted numerous agreements involving settlements and forbearance arrangements.
Jack has represented clients in trials, appeals, and regulatory proceedings in various state boards and courts throughout the country. Locally, Jack has handled several cases in the Circuit Court of Cook County and in the circuit courts for Chicago's collar counties.
Prior to law school, Jack worked at the U.S. Department of Homeland Security's Office of Legislative Affairs in Washington, D.C., where he advised senior departmental officials on legislative and communications strategy and the Senate confirmation process. While serving at the department, he received the Secretary's Award for Exemplary Service.
---
Megan E. Thibert-Ind, Esq.
Partner
McDermott, Will & Emery, LLP

Megan Thibert-Ind is a Partner in the law firm of McDermott Will & Emery LLP and is based in the Firm's Chicago office. Megan has represented clients in a wide variety of complex civil litigation, including anti-trust matters, tax controversy, real estate disputes, tort litigation, and class action defense. Megan is currently representing clients in litigation pending in federal and state courts throughout the country, in addition to administrative agencies, and before the American Arbitration Association.
Representative Experience
Antitrust Litigation: Obtaining a complete dismissal with prejudice on behalf of an international toy maker involved in litigation related to alleged price discrimination, unfair business practices, and Sherman Act claims.
Tax Controversy: Representing a major online travel company in numerous large and complex lawsuits throughout the country. Megan's work includes obtaining dismissal or summary judgment in numerous actions pending against her client for claims relating to whether the company owed certain hotel occupancy taxes based on its online reservation model.
Real Estate Disputes: Obtaining judgment in favor of a national residential construction company. The Court found, and the appellate court later affirmed, that the Plaintiff failed to prove the terms of a proposed purchase and sale, and therefore was not entitled to its claim for specific performance.
Tort Litigation: Successfully obtaining settlement on behalf of an individual plaintiff on claims for fraud, fraudulent concealment, and civil conspiracy linked to the unauthorized investment of her client's money.
Class Action Defense: Defeating certification of a putative nationwide class and obtaining summary judgment, which was later affirmed by the appellate court, in a case brought by consumers asserting consumer fraud and other causes of action related to an online merchant's display of service fees.
Megan dedicates a significant portion of her time to pro bono practice. Her pro bono work focuses on a range of experience, including obtaining a favorable settlement for the victim of a hate crime, representing clients in employment discrimination and unlawful discharge matters, and obtaining a successful judgment on behalf of an elderly man defrauded by his adult son. She dedicates a considerable amount of her practice to firm citizenship. She is a member of the Firm's Pro Bono & Community Service Committee. Megan is a former recipient of the Firm's Pro Bono and Community Service Award. Megan is a member of the Firm's Associate Development Committee and the Gender Diversity Subcommittee. Megan is also a member of the young professionals board for Legal Assistance Foundation of Metropolitan Chicago.
While in law school, Megan served as an articles editor on the Wisconsin Law Review and was a member of the University of Wisconsin Moot Court Board. She also worked on appeals for criminal defendants in the Remington Center Criminal Appeals Project. Megan held a judicial internship for the Honorable Barbara B. Crabb, Former Chief U.S. District Court Judge for the Western District of Wisconsin.
Megan is admitted to practice in Illinois and before the U.S. District Court for the Northern District of Illinois. She is a member of the Illinois and Chicago Bar Associations.
---
Ethan White, Esq.
Partner
LeonardMeyer LLP

Ethan White is a partner with LeonardMeyer LLP, a law firm with offices in Chicago and Los Angeles. Ethan often represents individuals in employment and commercial disputes, with significant experience in discrimination, whistleblowing, and retaliatory discharge actions. He has first chaired trials in Cook County Circuit Court and the Northern District of Illinois, where he is a member of the Trial Bar.
Prior to joining LeonardMeyer, Ethan practiced for several years at Mayer Brown LLP, helping clients navigate dealings with both Federal and State governmental authorities during civil and criminal investigations, particularly the U.S. Securities and Exchange Commission and the U.S. Department of Justice.
Ethan attended the University of Michigan Ross School of Business and worked as a business and IT consultant for nearly five years before law school, giving him a unique ability to quickly understand the language and dynamics of his client's operations, whether large or small.
Ethan is an instructor in Northwestern School of Law's prestigious trial practice program, and he has also coached some of its Mock Trial teams.
---
Fees
Registration fees are per person.
Individual: $425
Group: $399 per person for 2 or more from the same company pre-registering at the same time

Government employee/Non-Profit* Rate: $375

Law Students/paralegals*: $235 (current JD students only)
Program materials:
We've gone green.  Registration fees include an electronic copy of your handbook emailed one week in advance of the program.  Be sure to check your spam folder if you don't see it by then.
If you prefer, you may order a hard copy of the handout to be provided the day of the program for $25. To do so, please be sure to check the box when you register. If you want a hard copy, you must order it when you register; there will not be any available for purchase the day of the program.
** Legal Aid/Non-Profit attorneys are those attorneys employed by Legal Aid/Non-Profit firms. It does not include attorneys who have their own practice, or are employed by law firms, that volunteer their time for non-profit causes or take on pro-bono cases. Full and partial scholarships may be available to a limited number of non-profit/Legal Aid attorneys, based upon registration. Please call (877) 858-3848 to discuss or email your request to info@pincusproed.com.
CLE Credits
IL General: This program is approved for 7.5 hours of general CLE in Illinois, including 1.0 hour of Professional Responsibility credit.
CA General:  This program is approved for 7.5 of general CLE in California.
NJ General: The LIVE session of this course is approved, under New Jersey's CLE Approved Jurisdiction policy, for the same number of CLE units as California. Pincus Professional Education is a CA Accredited Provider, which is a NJ approved jurisdiction. See the New Jersey State CLE Board Regulations and Guidelines for further information.
NY General: The LIVE session of this course is approved, under New Jersey's CLE Approved Jurisdiction policy, for the same number of CLE units as California. Pincus Professional Education is a CA Accredited Provider, which is a NY approved jurisdiction. See Section 6 of the New York State CLE Board Regulations and Guidelines for further information.
This program is approved for CLE in the states listed above.  Upon request, Pincus Pro Ed will provide any information an attorney needs to support their application for CLE approval in other states other than what is listed above.
Terms & Refund Policies
Recording policy: No audio or video recording of any program is permitted.
Seminar Cancellations: Should you be unable to attend for any reason, please inform us in writing no later than 14 days prior to the event and a credit voucher will be issued. If you prefer, a refund, less a $50 non-refundable deposit, will be issued. No refunds or credits will be given for cancellations received within 14 days of an event. However, if you notify us within 14 days of an event, and wish to convert your in-person attendance registration to an Audio CD package (with handout), we can do so. A small additional shipping charge, and sales tax in CA, will be incurred. No shipping charge is incurred for downloads. We will also issue a voucher for the amount paid if you notify us within 14 days and prefer not to have the audio recording.
Substitutions may be made at any time.
Reminder: The room temperature at hotels and other seminar locations are notoriously hard to control. Please bring a sweater or jacket in case it gets cold and/or layer as if you are going to the movies so you are comfortable.
For policies related to audio products, please select "I want a download or CD" on the right.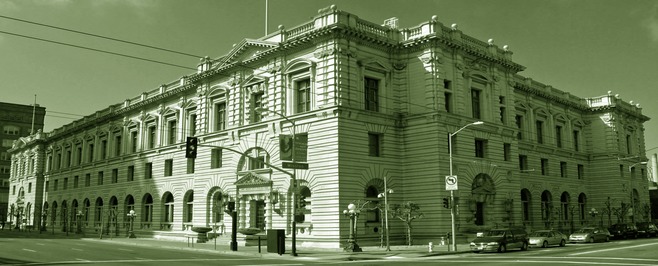 We cover everything from complaints to discovery to case management conferences, motion writing and tricks, trial prep, and trial techniques. All from the Circuit Court perspective.